From time to time we all have something that we know we need to do but just can't force ourselves to get started. This post will walk you through actionable steps you can take to stop the procrastination in your business that is hurting your bottom line!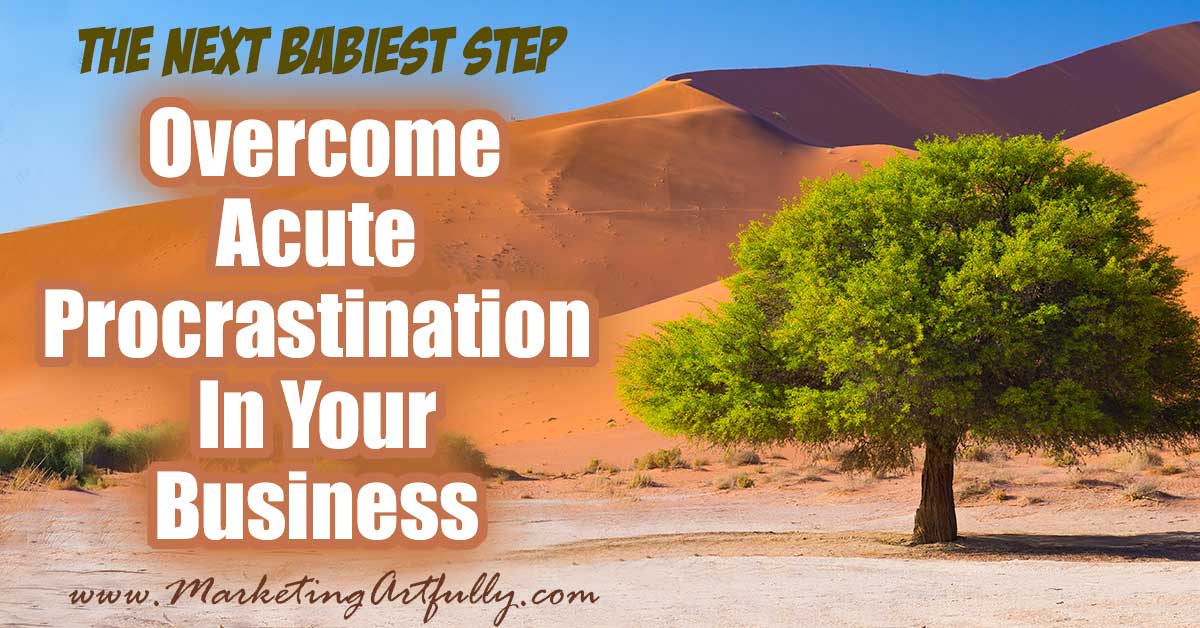 What is procrastination?
Procrastination is not laziness, no matter what you tell yourself! Procrastination is avoiding pain… even if the pain is just to your psyche or nerves!
As business owners we only procrastinate when we are scared of something. Think about it, when you are all fired up to do something in your business you are Beyonce, doing all the things and slaying all the dragons.
But then when there is something that is hard for you, all of a sudden you find yourself surfing on Facebook or putting a load of laundry in the washer.
That is the AVOIDING PART!
What is the pain part?
It is probably worthwhile to talk for a hot minute about what we are trying to avoid. Things that I try to avoid are paying my bills, doing client work and organizing anything. Those all make my head hurt and take willpower to start doing.
For me the pleasure part is writing anything, making pretty pictures or recording videos. All of those things I can do effortlessly and without having to use any of my precious courage.
To Do : Write down two things you try to avoid each month and one thing that you have been putting off but that will help your business!
Chronic Procrastination Versus Acute Pro
I like to think about my procrastination as either acute or chronic. Both suck but this post will be focusing on Acute Procrastination!
Chronic Procrastination
Chronic Procrastination is when you have a recurring item that you hate to do. This could be something like your bills, calling your database each month or doing your newsletter.
These recurring items crop up at a fairly regular time and make you sad. Luckily this one has an easy fix… OUTSOURCE THEM!
Seriously, if you have something that weighs you down and wastes time every week or month, get as much help as you can afford towards finishing that!
For example, I used to hate to do my bills. I would spend at least 3 hours every 15th of the month avoiding writing those three checks, putting two in the mail and going online to do my bill pays.
Honestly, it was about 45 minutes of work out of my month but I spend days fretting about it. Starting a few days before when I saw it on my calendar I would start getting grumpy about my "wasted day" doing bills. Could I get anymore dramatic?
I chose to "outsource" my bills by setting up auto bill pay for everything but two of them. Even I can't get that dramatic about logging into my bank to make two little payments.
Yours may be more complex. Say every Friday you sit down to write a newsletter and freeze up. You start thinking you are stupid, your ideas are stupid and everyone will unsubscribe from your list if you don't do a great job.
Woman, stop writing your own newsletter. Hire a writer who likes writing to do the heavy lifting. Get your next 3 months of newsletters drafted out by someone who is better than you at doing what you hate!
To Do : Find a way to outsource two of your monthly or weekly tasks!
Trade with a friend if you can't swing it financially. Try to find help on Fiverr.com (#promo) Do whatever it takes to make this happen.
Can you IMAGINE what it will feel like next month when that horrible thing is off your plate and on someone else's? Whoo whoo!
Acute Procrastination
Okay now we need to talk about acute procrastination … when you have something specific you have to do and JUST CAN'T DO IT!
This one is terrible for business owners. We all have one or two things that have sat on our todo lists for week, month or even years and that have the potential to really change our lives.
I know one of these things was doing a new "store" page for my website. I had known for years that mine sucked and that I could sell more if I fixed it, but I could just never find the time to do.. yeah right!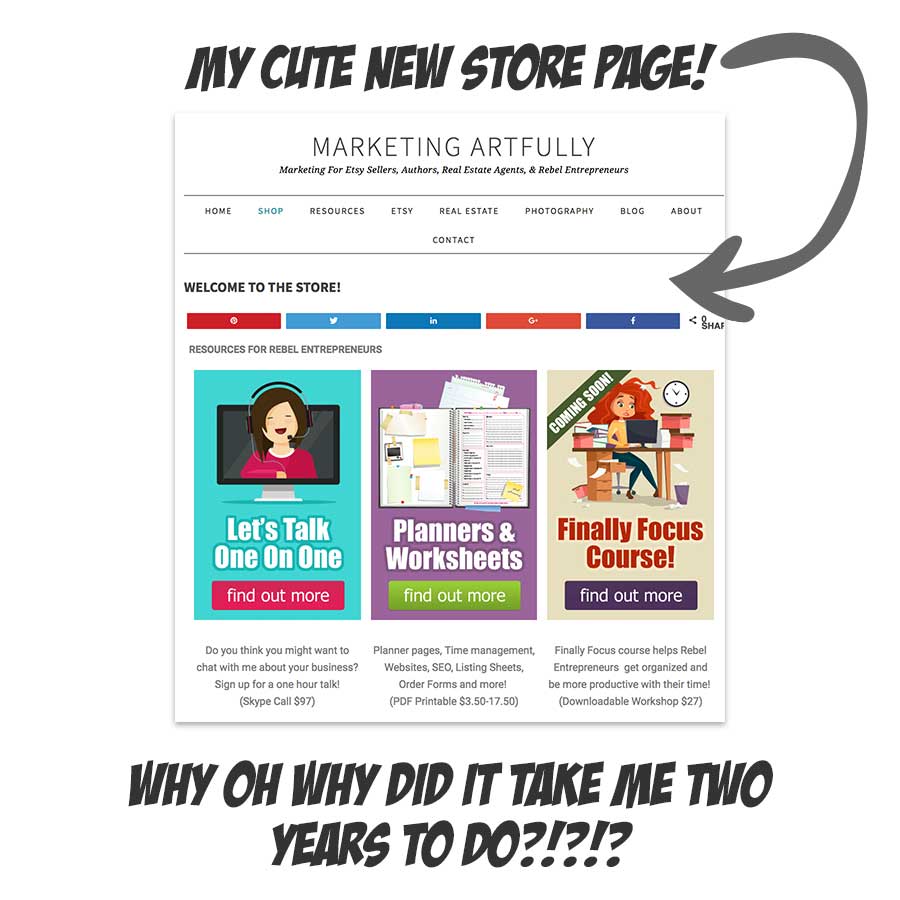 What that really means is that I never MADE the time to do it. I could always find something more important because I dreaded doing that one thing!
How To Fix Acute Procrastination – The Next Babiest Step
There is only one way to fix Acute Procrastination. Doing the next babiest step you can think to do!
For me this was to look at other people's store pages. NOTHING ELSE!
The reason you can't get started is that the thought of doing the whole damn thing is so overwhelming that you seize up so you have to trick yourself into starting by doing something so small and innocuous that your brain doesn't realize you are working on the project.
Here are some examples to get you going!
Have to start calling your database? Look up the number of someone you love and call them first.
Need to send out more personal notes? Go to Etsy and order a new return address stamp! (#promo)
Want to post more videos on Instagram? Go follow 5 people whose videos you love.
Need to update your sales letter? Google "perfect sales letters" and read a blog post.
The key here is to REALLY only think you are going to do that one thing.
This makes your limbic system stop thinking you are going to die (seriously, it thinks you will physically die if you have to write a personal note… how messed up is that!??!)
While we are fully functioning, higher brained people, our physiology came from our caveman ancestors. Things that make us scared like picking up the phone could have been deadly choices for our ancestors (pick the wrong mushroom and die a horrible death).
How Not To Fix Procrastination
There are experts out there that will tell you that making a whole list of all the tasks required to accomplish your entire project is the way to go.
Oh sweet baby Jesus… if I could pull myself together enough to make a giant list then I could probably complete the project. Putting all that down would be just one more thing I wouldn't do for starting my project!
It is better to think of this the way old explorers used to get across vast areas. They would put barrels across the desert and navigate by keeping one barrel in sight ahead of them and never losing sight of the barrel behind them.
Using the Next Babiest step is like that! You aren't trying to cross the whole desert at one time, you are just trying to keep that next barrel in sight!
Overcoming Procrastination Wrapup
I just wanted to pop in down here and let you know that you might think you are doing the Next Babiest Step wrong. You might constantly do it and then do EVEN MORE!
That is okay! Doing more is perfectly fine, just thinking that you will do more before you start is not fine.
It is sort of like pushing a car down a hill. When you are at a dead stop, shoving that car is really hard, but once you get it over the crest of the hill then it just picks up momentum and keeps going!
Additional Resources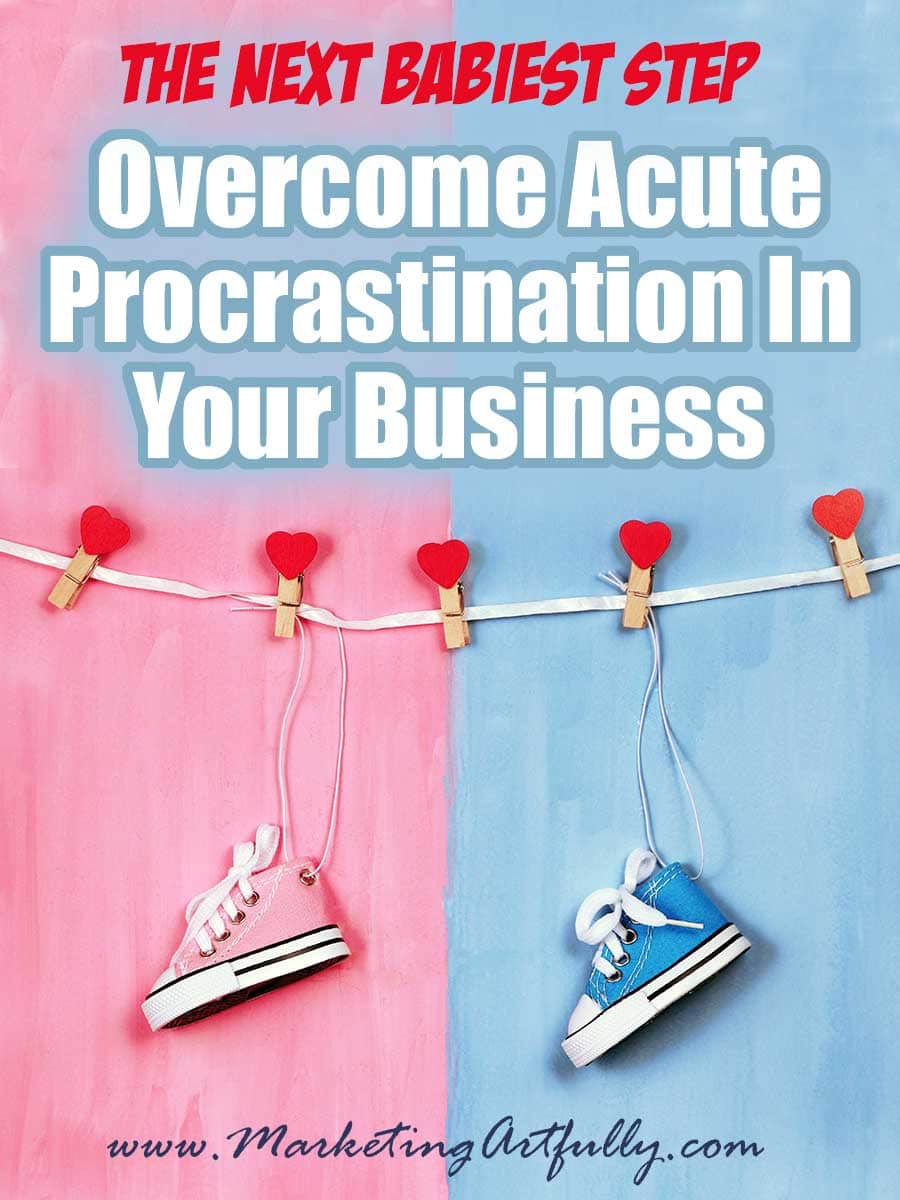 (Visited 82 times, 2 visits today)