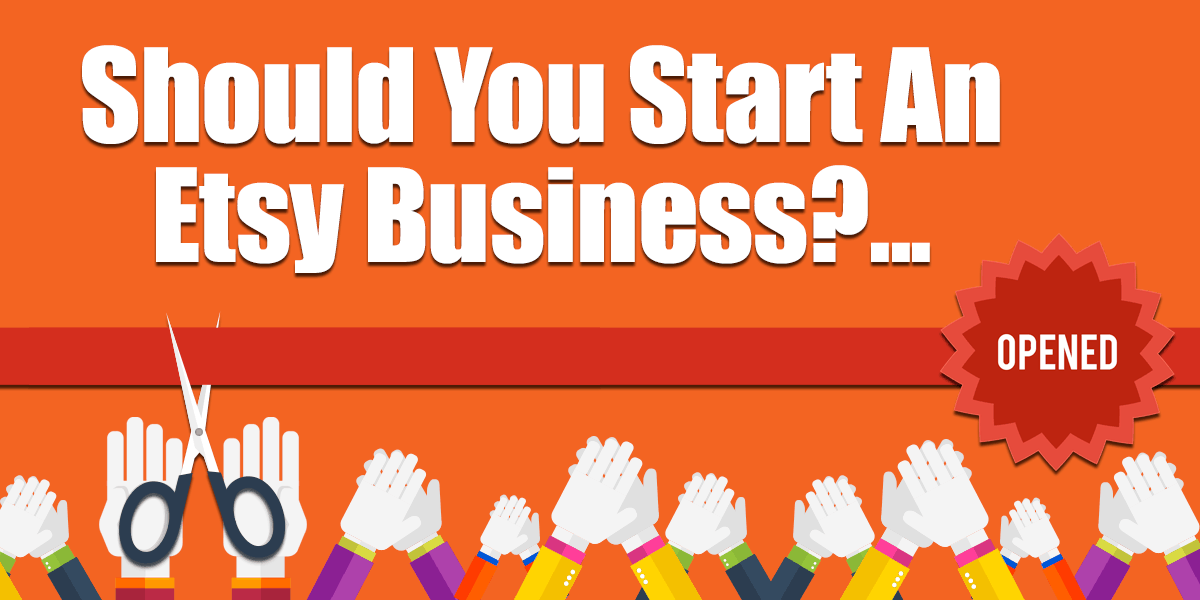 YAY! You are considering starting an Etsy shop and wondering what you should be doing to make it a success. Good for you! You clicked on a link that said starting a BUSINESS not a hobby. Knowing that your goals is a business rather than just a shop will take you a long way.
>> Get 40 free listings when you




sign up for Etsy

here

<<
First Steps To Starting An Etsy Business
You have a dream of an Etsy shop, but have you really thought it all out first? When I have a business idea my very first step is to do a Wicked Good Ideas plan. This is my way of scoping out all the aspects of a project on paper BEFORE I really get going on it.
This has saved me thousands of hours and hundreds of tears! I have stopped jumping in and DOING things, instead I look at the strategic aspects of whatever I am considering (in this case an Etsy shop). Here are some of the super high level things I would think about first…
What will I be selling (product development)
Can I make affordably
Where can I source materials for it
Will it be a physical product or a digital product
Is there a big player on Etsy doing this already (research competition)
How much time do I have to devote to my shop
How much will my product cost to ship (check at the post office)
Should I make custom items or have stock available to purchase
These are all things to think about BEFORE you even do the first step of opening a shop on Etsy. So you have done all these and KNOW that an Etsy shop is in your future…YAY!
Next you want to start working on the business aspects of your Etsy journey. Here are some things that you might want to do as far as opening your "doors" and branding your business.
Get a business name through your state (does NOT have to be the same as your shop name – my business name is Tara L. Jacobsen, PA)
Get a business checking account (this is SO important for your taxes) – you do NOT need a PayPal anymore as Etsy has included that in the checkout systems
Pick a shop name
Get a header and logo made for your shop
Write your own About Us verbiage
Write your Shop's About Us section
Write your shop policies and delivery emails
REALLY think about your return policy, this messes up a lot of Etsy sellers
Read the Etsy Seller Handbook – it is PACKED with great info about everything Etsy related
Now that you have gotten this far, probably you are thinking this REALLY is more like a business and less like a fun creative shop. That is true, but most of what we have talked about so far is only a one time thing and once you get over this hump you will be good to go and ready to set up your shop for real!

Loading Your First Listing
Whoo whoo…everything is set up and ready to go! Here is what you need to start out super strong with your listings from the start.
5 great pictures…YES! You have to use all 5 slots that are available. People buy with their eyes and by touching things, but on Etsy they can't touch so you need to make sure you are giving them LOTS of things to look at! need some help with your pics? check out my Product Photography post
Writing a super strong SEO title… I feel like new Etsy sellers are not researching title development enough. You can't just call your item "blue baby blanket" and think that this will show up the search. You need to have a great Etsy SEO Strategy to get any views at all.
Your description should be longer than you think… Okay, people are scared when they are thinking about giving you their hard earned money. They want to know that you are not going to just  send them something that is not worth their money. I get it, not everyone will read your big long description, but people who are really interested will! I guess there is a tendancy to think that if you are selling a lower priced item that you don't have to do the big description, but EVERY listing deserves to have a great description.
Your tags should be… EXACTLY the same as your listing title just in various and different orders. A while ago you could get away with doing different tags than in your title but now the SEO algorithm that is used to show the search results favors having one strong keyword for each listing. A pro tip is to use one of your tags for what people might search for to find you. So use your shop name or your name in a few of your listing tags so that people can find you that way.
Your materials are a great additional resource… for PEOPLE! If you have extras make sure to put them in here along with your actual physical product attributes. For example, one of my clients makes vases and we always include "Made In America" tags. I also make sure to let people know in those materials that there are bonus videos or getting started sheets. This shows up HUGE right under your title in the Etsy listing and is worth taking the time to make sure it looks great. As far as I know there really is little to no SEO value to the materials.
Listing Concepts
Okay, last but not least, here are a few listing tips that could help, especially if you are just starting out!
It is better to load one a day than all at once. This is a big one. When you are starting out (or increasing your shop offerings) it is tempting to "batch" them, meaning you do them all at once in a sitting so you have a bunch ready to go. And that is a GREAT practical practice from a workflow standpoint, but from a sales perspective it is horrible. Instead of posting all those listings at once, save them in "draft" form and post them one or two a day for a while. This allows Etsy to show them to your followers over time and also doesn't FLOOD your followers with all of your work at once. For example, say you listed 20 items all in one day, but your best customer was on a cruise and never saw them. You have missed the opportunity to attract people to your shop over time.
You should get 8 items in your shop as soon as possible to make it look fuller. BUT when you are just starting out, you NEED to get to 8 listings as soon as possible. While you can sell one or two things, if someone new is coming to your shop and sees you have just a couple of items, they are likely to assume that you are not a "real" store and move on to someone with a better selection. I would still break up loading your first listings over a few days, but get there as fast as you can!
Use the featured listings to make it look fuller. If you do only have 8 or 10 listings, a great trick to make your shop look fuller is to "feature" 4 of them by choosing the star icon in the listing manager. This will visually add 4 more listings to your shop!
>> Get 40 free listings when you




sign up for Etsy

here

<<
Starting An Etsy Shop Wrapup
As a relatively new Etsy seller I can tell you that you should hold on and prepare for a wild ride. You will have the highs of your first sale and the lows of getting tons of favorites but no sales. You will be giddy as a school girl one minute and ready to quit the next. But don't quit!
When you start an Etsy business you are on the first steps to freedom in your life. You are able to make money, learn new skills and help yourself and your family succeed! It really is about the most fun I have in growing an online business and it is SO worth the time it takes to get started.
Speaking of time, don't listen to those people who say you should expect to have to wait three months for your first sale. REALLY push to get sales from your friends, family AND online from Etsy or social media or anywhere else you can generate them. Don't wait for some magic moment, instead push on and learn as much as you can about how to grow your shop!