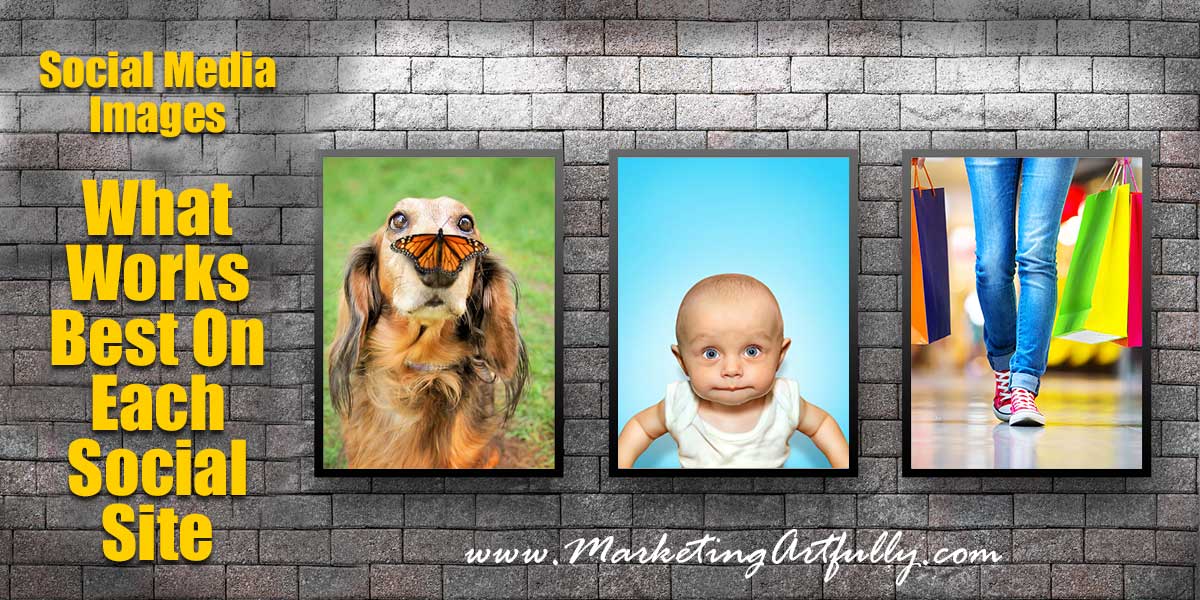 Social media images can make or break your marketing campaigns! When you are getting your images together, you want to make sure that you know what your focus is.
For me, the focus is on creating images that will work well on Twitter, Pinterest and Instagram. I am not worried about Facebook and while I do share on there, I don't really try to make my images "Facebook Friendly".
Your marketing strategy might be more Facebook focused or more reliant on Instagram. You might love LinkedIn or think that Twitter is the bomb. What I have found is that you can't do every site well (and still have a real business) so…
Step One – Pick Which Sites You Are Making Images For
Gary Vaynerchuk was the first one to proclaim loudly and proudly in his book, Jab, Jab, Jab Right Hook, that all images don't work well on all social sites. If you are trying to make graphics that are universally sharable, they are probably so bland or weirdly formatted as to not appeal to anyone.
So step one is to pick your battles! Choose which sites that you are going to focus on. I have found that most normal people can do about three without wanting to stick a sharp stick in your eye.
Step Two – Figure Out What Sized Images You Will Need
Depending on what social sites you pick you will need to have your images formatted in certain dimensions.
Pinterest and Tumbler like tall skinny images
Twitter, LinkedIn and Google+ like short wide images
Instagram (while allowing different sized images now) works best with square images
There are "perfect" sizes for your social media images, when I am wondering what they are I use Sprout Social's Always Up-to-Date Guide to Social Media Image Sizes.
That said, I tend to make three sizes for my images since I do need all three for the sites that I picked AND they work well enough on the ones that I am not especially targeting.
I make a 650X650 square which is perfect for Instagram, 1200X600 which is great for Twitter, Google Plus and LinkedIn and 600X1200 which works for Pinterest and Tumbler.
These sizes are not "perfect" and will get cut off a bit on some of the sites, but they are easy to divide in half for putting into blog posts. Because I make so many images and am a graphic designer I use Photoshop and use my default sizes to make images.
But there is an amazing new option! Canva.com now has a special whizzy wig thing (Magic Resize) that will make all the perfect sizes of social media banners with a click of the mouse. Just make one banner and then say what other kinds you want to size out.
(the magic resize is a premium option, but at about $10 a month it is SO worth it if you aren't a Photoshop whiz)
What Kinds of Pictures Work Best
Now on to the kinds of pictures work best on each social site. I am using a mix of tools to try and check out what is successful. For Facebook I am using the top pages on Facebook and what they are posting. For the other social networks I am using Sparktrend (an amazing social media research tool…more about this later!)
Facebook Posts
For the Facebook posts I checked the top pages on Facebook and found posts that had a fair number of likes or shares. What I found interesting was that even though they had HUGE numbers of followers it feels like the likes and shares numbers are small comparatively.
This made me feel so much better about the numbers that I and a number of our clients are achieving. If a page with 24,000,000 followers (Kit Kat) only gets 129 Likes and 14 Shares, what can we mere mortals hope to achieve?
This post combines bright colors and a call to action to find the differences. This would be pretty easy to make and does catch the eye.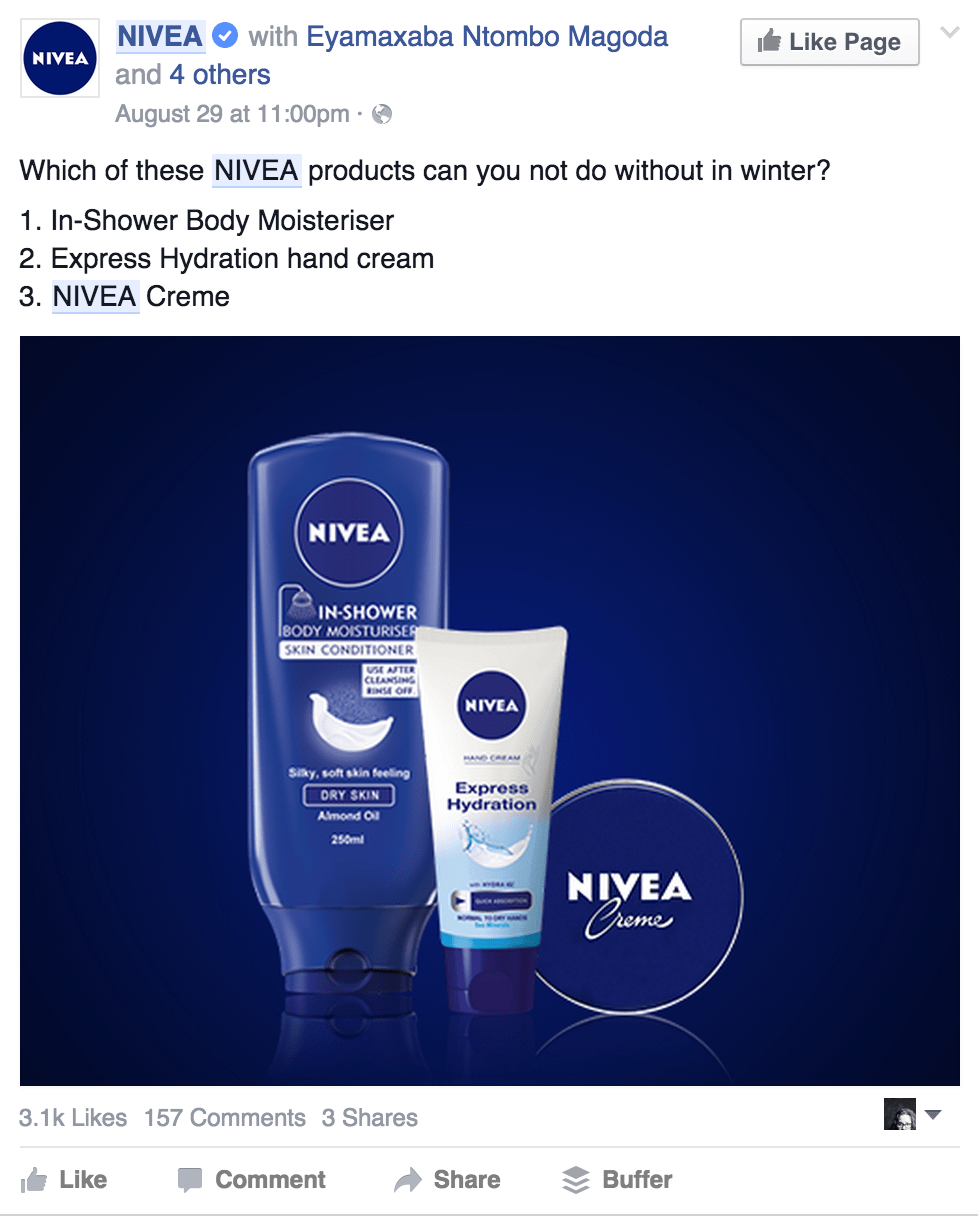 In the "people will like anything" category, Nivea has successfully gotten over three thousand people to like whichever kind of Nivea they like best in the winter. I can't see the benefit of this, but then again I respond a lot to ink manufacturers that other people would think are stupid.
Again this is a very saturated picture that would jump off someone's newsfeed.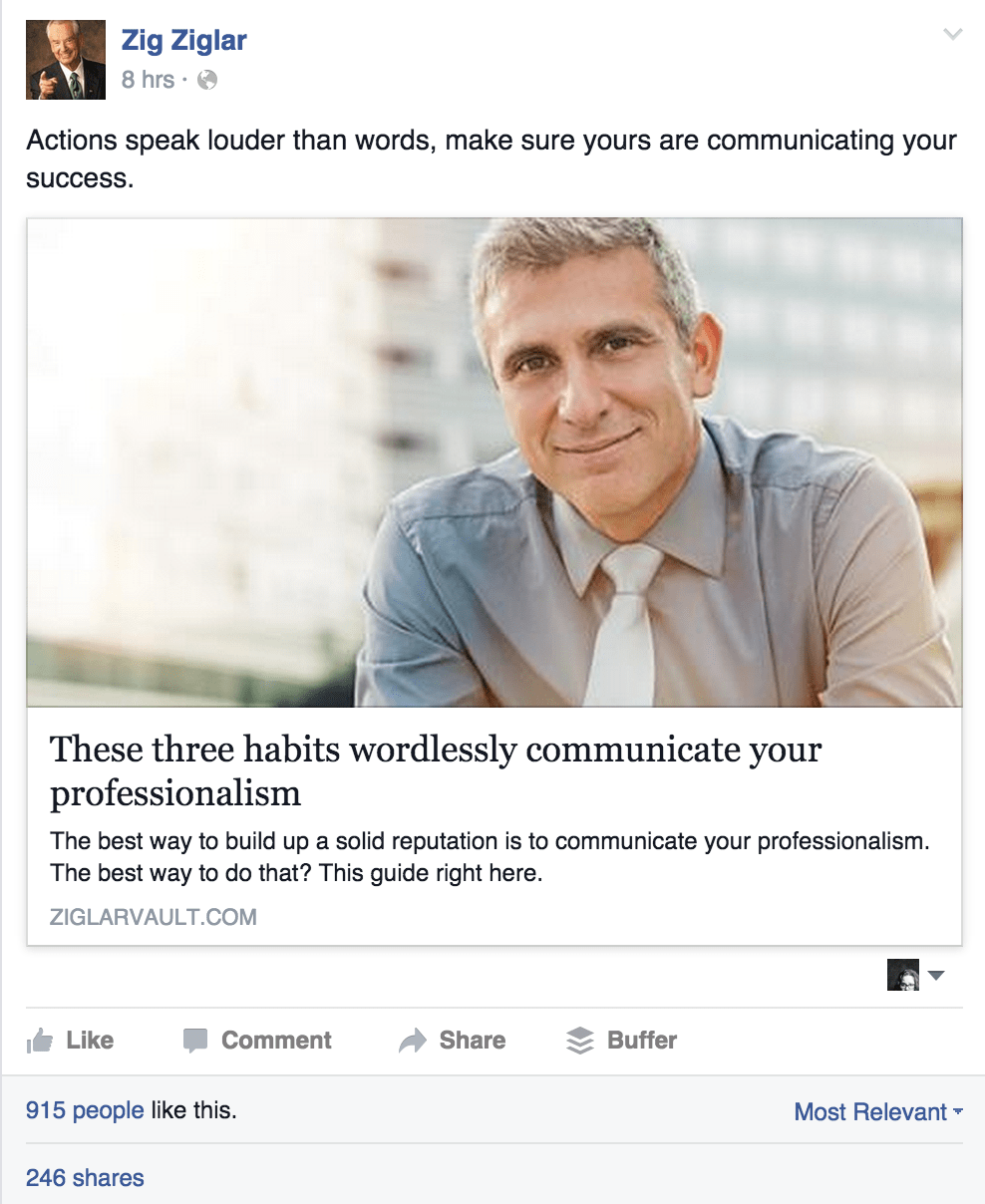 The next one is a brand (yes! Zig Ziglar is passed but his name lives on) But what is important to know is that people like to see people. If you can include a picture of someone making "eye contact" you can increase the number of responses you get.
SparkTrend
For the rest of my research I used a tool called SparkTrend that records and ranks social media postings from brands and accounts that I designate. The cool thing is that I can find out at a glance which posts did the best and visually see them.
I often find that what I think will crush it dies a wimpery death and the plain jane ones I snap on a whim are the most successful!

Instagram Posts
These are the top posts done by more "normal" people not brands! Instagram posts are more "real life" and less marketing based. The can be of you or your work. Your customers or your family. It is totally up to you how much or how little you share of your personal life.
The benefit to Instagram is that it "passes through" to Twitter and Facebook so any posts you make can automatically be shared to those social networks too.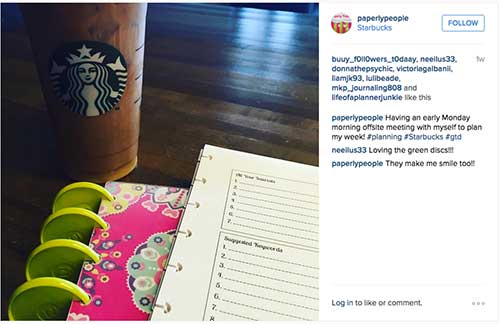 This is my top Instagram post for PaperlyPeople which is cool since my following is so small that I feel like I got a great result. It matches well with my planner people theme and was colorful and cute.
Here is a top post from Jen_Plans: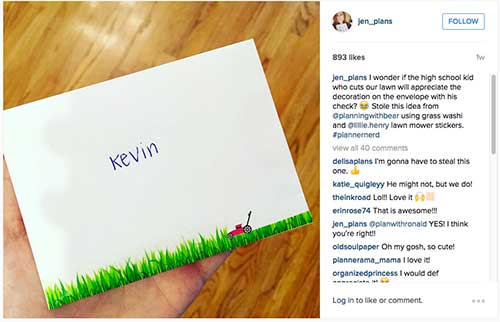 As you can see it is her own work and is just a candid shot on her table or floor. The neatest thing to me about Instagram, and maybe why they don't allow so much auto posting, is that it feels like you are getting actual pictures from people, not just marketing posts.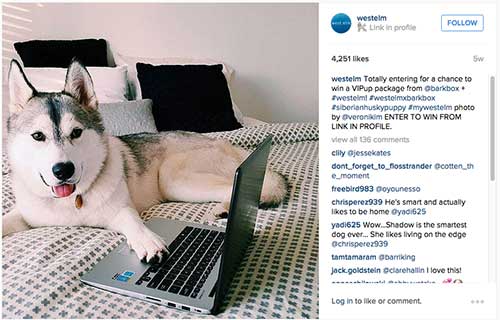 This is a super popular contest shot for BarkBox on West Elm's Instagram account. It is very monochrome, taking advantage of the the dog's and background's coloring.
Twitter Posts
Twitter posts are not long lasting, they fly by in an instant and so it can seem like there is no real use trying to make them popular. But wait, there are LOTS of great Twitter posts and I can see from my analytics that they ARE driving traffic consistently to my website!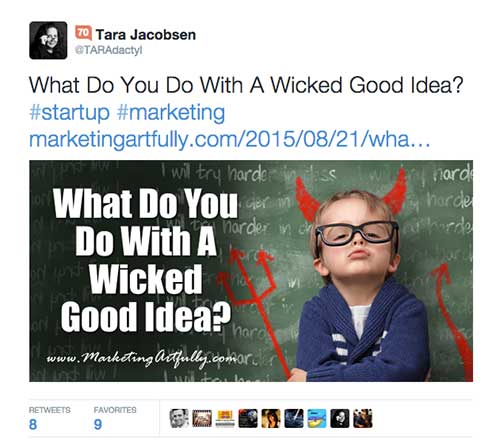 This is one of my top posts for this week. I LOVE the little kid in the graphic and the content has been very popular (remember that favorites and shares are nice, but the proof is in how many clicks a post gets to your website!)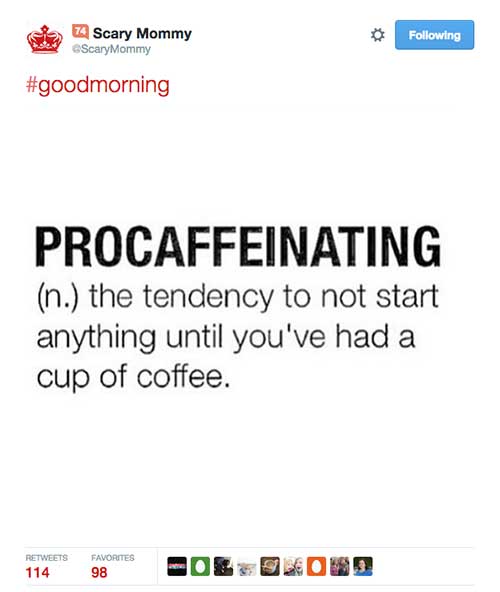 This is the most popular post on Scary Mommy's Twitter account. As you can see, it is a very plain quote that resonated with her audience. Every post doesn't have to be a masterpiece of artistic grace, some can just be a quick quote picture. (it would be super interesting to know if she or people thought that this would be so popular, or if she just posts a variety and then reverse engineers what works best!)
Pinterest Posts
Last but not least we come to the mother of all picture sites, Pinterest. I find that my highest social traffic (by a huge margin) comes from Pinterest so I am willing to take much more time to make a pin that will be on Pinterest than to make one that will be on Twitter.
Here is my top all time post on Pinterest: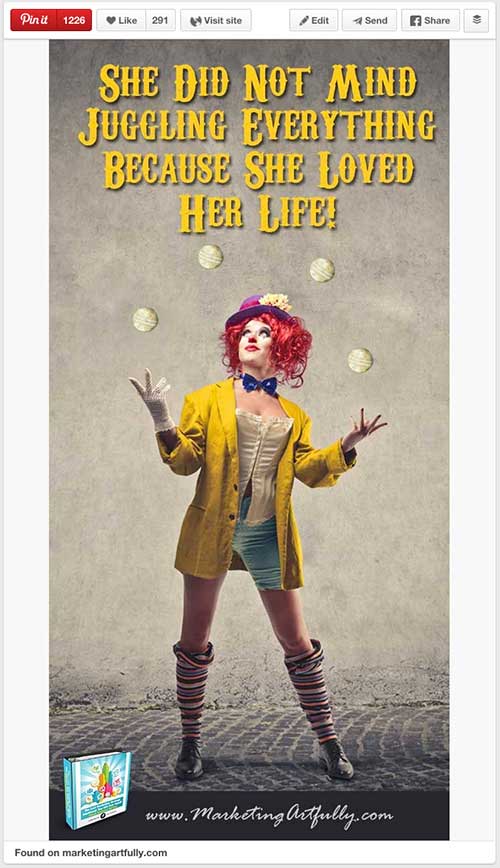 Now I did promote it, but this was a Pinterest designed post meant to appeal to 1. ladies (very few men would like this one), 2. busy people (everyone feels super stressed so it is a good bet "my girl" feels stressed" and 3. who are happy with their lives. I am very focused on having clients who are successful and who want to get MORE successful so I promote "strong women" pins.
And just to show that every post does not have to be "BEAUTIFUL" this is another of my popular posts that I have never promoted but which has gotten almost 90 shares all on her own because of the content behind the picture (it is a REALLY good post!)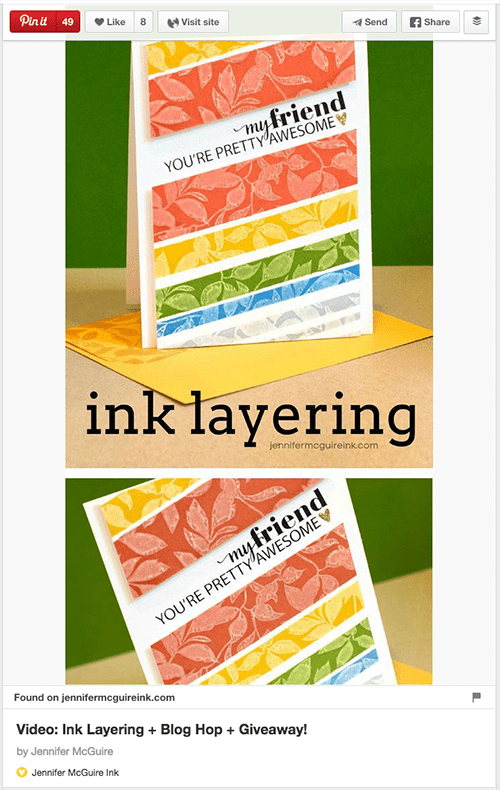 As you can see, lots of color makes the picture jump off the page! Pinterest users love color and brightness.
Note: One last thing about Pinterest. Having spent A LOT of time researching pictures and designs that work on Pinterest, I have anecdotally found that pictures with "hard edges" rather than feathery or white backgrounds seem to do better in repins and likes. This is so not scientific, just an observation.
Social Media Images Wrapup
This may be one of the most requested posts I have had from my newsletter peeps in years. It is so confusing to know which sites you should be on and then how to make the most impactful images on those sites.
As a graphic designer, even I can become overwhelmed until I remember the point of all this picture making. To drive people to my website and get them to buy something or join my email list. If they "like, friend or follow" it, great, but at the end of the day, likes don't pay the bills so make sure that you are making social media pictures that have a purpose!
(Visited 4 times, 1 visits today)