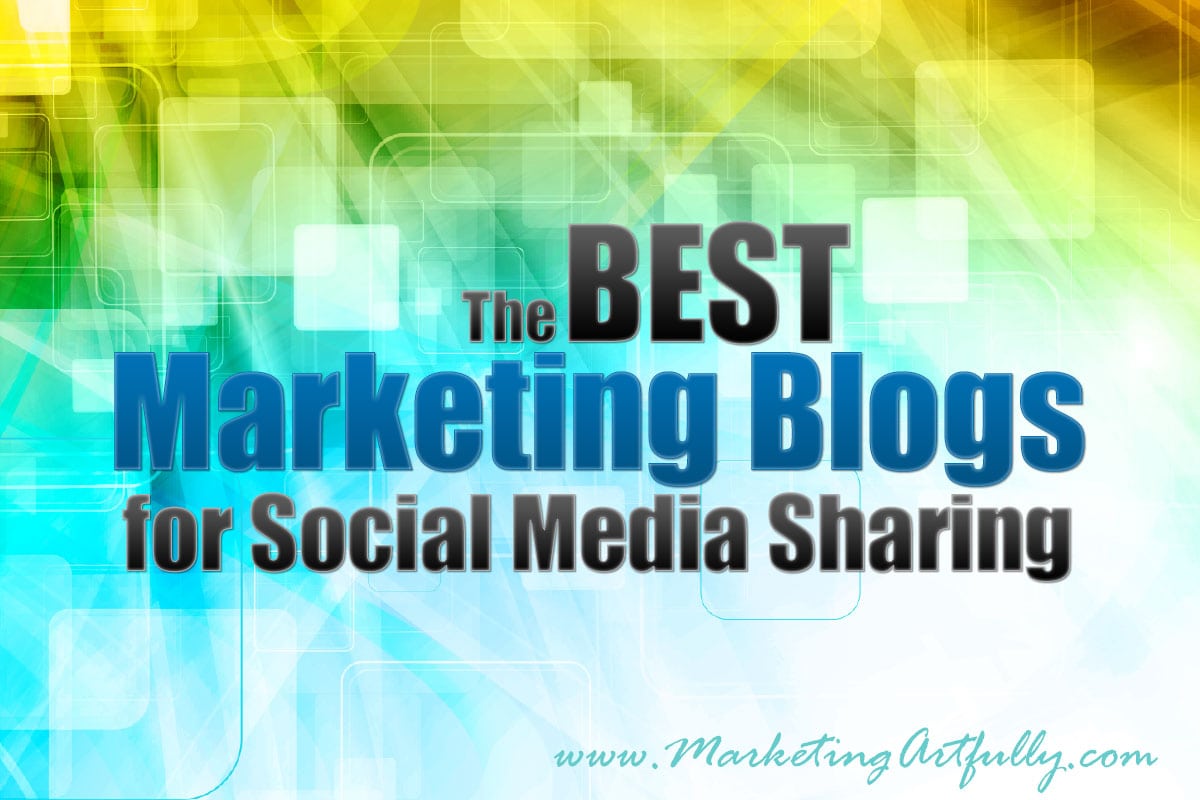 Like most of my amazing blog posts, I wrote this post about the Best Marketing Blogs for Social Media Sharing because I need them myself. I am working on things to post to Twitter and ways to do my own research into marketing, both current and up-to-the-minute AND stable, steady great advice that I can really get behind!
There are some of the usual suspects, but for my purposes I need to find the niches, the little corners where great people were writing about marketing and not so many people were reading. It is okay to have a Social Media Examiner or a Mashable, but so does everyone else (plus they clog up my feeds with all the posting they do). To really succeed at social sharing, you cannot post only things that are popular, you have to post things that no one else has seen!!!
The Criteria For Selection…PURELY subjective beyond the fact that I don't like "getting started" or basic stuff that is already out there and has been rehashed to death!
If you have a blog and think I missed you, leave a comment below. Just know I monitor all comments and will not approve your gratuitous link in my beautiful post.
Overall Small Business Marketing
Marketing Artfully – Yep! This is my blog and post information about small business, entrepreneur and realtor marketing on a weekly basis. I have a pretty strong following and am super proud of everything I put out there.
Matthew Woodward – Matthew could have gone in affiliate marketing too, but have to say that his newsletter and blog is one that I read religiously. Great stuff!
Comm100 – Some really good articles. Mostly beyond the basics which I like!
Boost Blog Traffic – Jon Marrow has a really great blog that has lots of different strategies to improve your marketing. A good read.
Vertical Response – Has a lot of different types of marketing that is great to share. Very impressed with their actual information (rare for an email company!)
Top Rank Blog – A lot of social, but enough other bits that I put them in general. Actually a really nice mix!
Crazy Egg – Great in-depth articles about a wide range of marketing.
Marketing Genesis – I love Andy Jenkins (Mike Filsame sends too many emails for me to love him..:) Their "Random Acts of Coolness" are super interesting and helpful.
SteamFeed – A pretty high frequency site, but really good content and I haven't seen them all over the social media.
Marketingland – A wide range of authors talking about many different types of marketing.
Wordstream – A mix of authors and generally really interesting content. May lean towards PPC or SEO, but overall a mixed bag.
Quick Sprout – put out by Neil Patel, I really enjoy his writing style and that it is not basic, basic, basic.
NextDevMedia – Nice meaty content that I would be happy to share!
Nathalie Lussier – Love her practical tips and marketing videos.
Content Markting
Content Marketing Institute – super comprehensive site with lots of contributors. A nice mix.
PR Marketing
PR Secrets – She does a really nice job of presenting PR as an approachable endeavor.
SEO (Search Engine Optimization)
Search Engine Land – A really informative site for SEO info!
Top 5 SEO – 100% White hat SEO blog, rare to find such great info that I can actually use!
Search Engine Roundtable – Great mix of SEO topics for sharing.
Unbounce – Really kind of neat format and interesting articles about conversion and techy bits.
Moz – I have to admit, the mustache is a little off-putting, but the information is GLORIOUS. A mix of posts and videos that are great to share.
SEMRush – To be honest, a little (a lot) self promoting, but there is some really good stuff in and amongst all the SEMrush this and that.
Email Marketing
Aweber – One of the few email marketing companies who post actual email marketing information instead of just a big string of sales messages.
Litmus – Great advanced email marketing content.
Benchmark – Really good blog about email marketing! A little different spin, maybe more nerdy.
Marketo – Okay, having to eat some crow here now that I have been sad about email marketing company's blogs. My impression was that Marketo is all about themselves, but checking the last 10 posts or so it was 9 about marketing and 1 about themselves…:) I can live with that.
[Tweet "[Blog post] AWESOME List of blogs to share on #socialmedia! @taradactyl"]
Social Media Marketing
Twitter Counter – Great info about how to maximize your Twitter!
Tweet Smarter – It is hard to find great info about Twitter only…this is one of those!
All Twitter – Again, a really nice Twitter only site with some really good content.
Amy Porterfield – Love this gal for Facebook marketing, more on the paid side than organic.
Inside Facebook – A really good, Facebook only website with lots of great posts!
Mari Smith – YES I know she is actually a "big dog" but there is so little usable, real information about social media out there that I had to give her a shout out!
Facebook News – Social is not all about Facebook, but so many people are focused in on that that sharing CORRECT information that comes right from the horse's mouth can be a big play.
Andrea Vahl – A local Colorado gal, she is funny and has great information beyond social.
Pinfluencer – Great for Twitter, hard to use for the rest because no pictures! BUT SUPER GOOD data about Pinterest.
Marketing Pilgrim – A great mix of all the different social sites.
Video Marketing
ReelSEO – Some interesting info about videos (not sure a whole lot of "marketing" here)
Video Brewery – A little high on the self promotion but in and among are some great video marketing articles.
Lou Bortone – He seems to be a very genuine guy who knows quite a lot about video marketing.
Vidyard – Surprisingly good and more advanced video marketing strategies. note – it is physically impossible to use this site on mobile and very annoying on a desktop because of the popup but the content might be worth soldering through
Reel Genie – Good solid information about videos (not sure there is much marketing but good solid info)
James Wedmore – Great information about video marketing and on top of that he is a super funny guy!
Graphics
LouiseM.com – Really good graphics blog…seems like mostly social media but solid marketing tips with pictures.
Ideabook – Chuck Green – His blog is named PagePlane, but I promise you this is the really cool guy from Ideabook. LOTS of great info and I recommend subscribing to his newsletter.
Affiliate Marketing
Sugarrae – Kick ass, take no prisoners affiliate marketing from a pretty cool chick.
Smart Passive Income – I couldn't have this list without Pat Flynn! He is a brilliant, funny and super nice guy who posts great content about affiliate marketing.
ShoeMoney – Hmmmm, almost put him in the big dogs, but there are some really great posts and I just like this guy.
FORUMS
ABestWeb Affiliate forum
Pay-Per-Click Marketing
PPC.org – Not the normal sell you PPC crap, this site has real, useful information for paid marketing.
Geeky Marketing
Marketing Professor – Our buddy Travis Campbell is probably the geeky-est guy we know. He is alway trying to "figure out" advertising, email and the like.
Social Triggers – Derek Halpern is pretty damn geeky. He is all about people and how the interact with marketing.
Kissmetrics – Data driven and relevant…get great stuff here!
Visual Website Optimizer – Dang this is geeky…may be even too techy for me, but I was still very intrigued and know what scares me is what I need to learn!
Marketing Experiments – Getting nerdy with it, they test, test, test.
Brian Massey – He is a semi-funny guy who really does focus on technical bits to make your site better.
Help My Website Sell – A new one to me, seems like there is some good stuff here!
Web Designer Depot – I love almost everything that these guys send out. Lots of good content and enjoyable format.
Corporate Marketing
Convince and Convert – Jay Baer's blog. It is really great information for huge corporate accounts and industry. That said, there are many ideas that us little guys can grab and redesign for ourselves.
AdAge – Lots of great ideas to use here! This is advertising-advertising more than marketing.
Eloqua – put out by Oracle, it is top level marketing mainly for the big guys. Still great stuff!
General Business
Marie Forleo – LOVE this gal. Her straight talk and great answers have helped me out of more than one jam.
Chris Brogan – Sort of a marketing guy, mostly a business guy…love his stuff!
Sales
Jeffery Gitomer – I like a cranky guy who tells it like it is about sales. Gitomer is the real deal, just wish he would put pictures in his posts so we could share them more!
The Big Guys
HubSpot – These guys do an amazing job of producing great content!
Copyblogger – Great stuff, very popular.
Social Media Examiner – Really good information. The problem is that everyone shares it so not so special.
Duct Tape Marketing – Really high quality blog from John Jantsch.
Marketing Profs – A ton of really great info, that gets shared A LOT!
Gary Vaynerchuk – One of my all time favorites! Straight talk, cussing and really great usable information.
Seth Godin – The 800 pound marketing gorilla! His stuff is great to share, just know that everyone else does too!
Jeff Bullas – A pretty prolific guy on Twitter, he does write interesting articles!
Clickz – GREAT setup for being able to break out individual types of marketing feeds instead of getting every single one of their posts.
Problogger – Good site for internet marketing and blogging.
How I Use These Sites
Social media sharing is a big part of marketing these days. While I do have a metric shit-ton of my own stuff I could share, it would quickly seem very self serving and not all that friendly.
Instead I use Bloglovin.com and Bufferapp.com to schedule stuff that I have read and found interesting. I have multiple Twitter accounts that focus on specific aspects of marketing (Tweetynerds, Ebooknerds, etc.) which means I need a wide range of very specific content.
In addition to having stuff to share, I am learning as I am listening to all these great marketing peeps, moving my knowledge and business ahead.
Only after I have other great stuff do I go in and schedule specific posts that are from my marketing empire, ensuring that I don't become too "all about me".
Hopefully this post about the Best Marketing Blogs for Social Media helps you too! If you found it useful and would like to see more like this, please leave a comment below about what you want to learn more about!
Get The Book! Social Media Marketing Strategies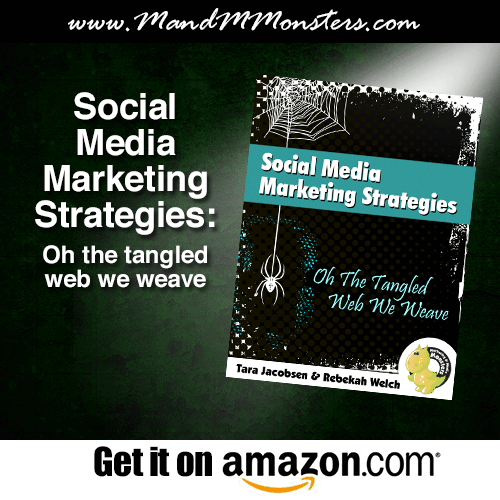 There is a lot of information out there about how to set up your social and websites, but very little about how to actually work them to increase your brand reach and sales funnel. This book is an in-depth guide on how to dominate your niche.
Throughout we cover the background for each topic so you know what worked before and what you should avoid now, tips for using the sites including universal best practices and in-depth marketing strategies.

(Visited 50 times, 1 visits today)