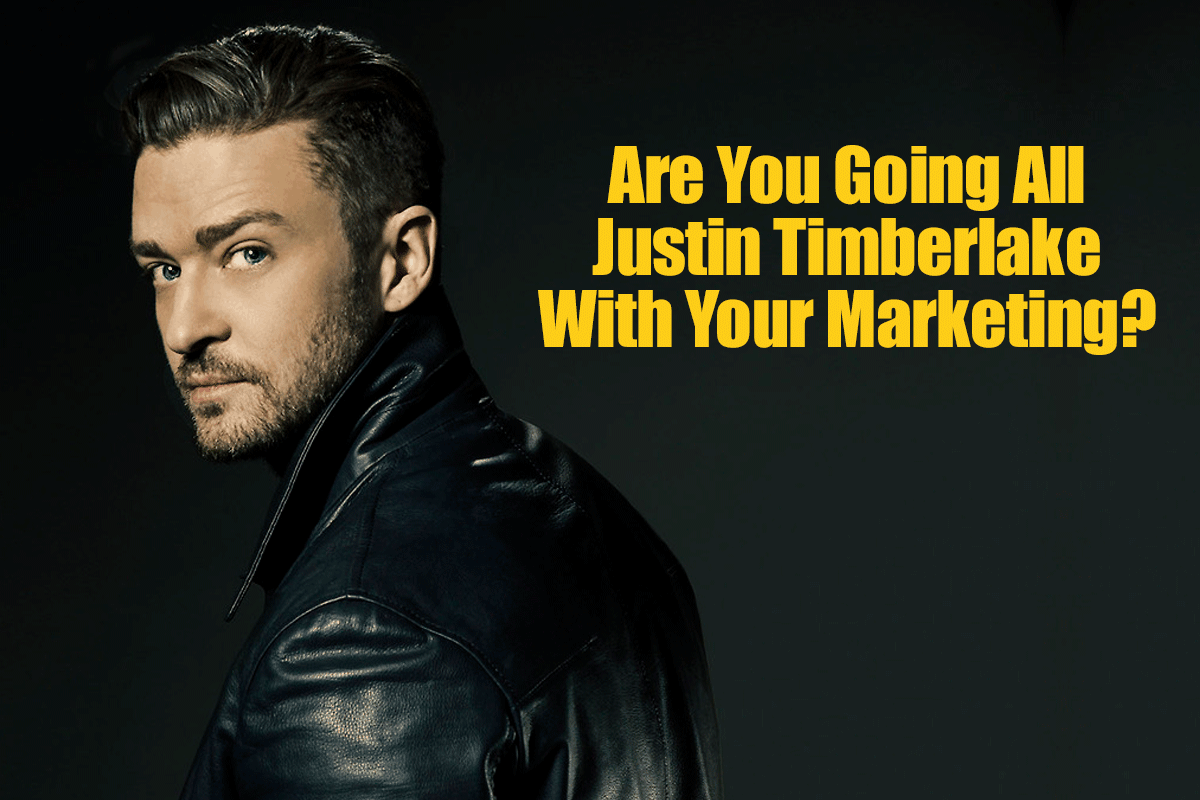 Small business marketing is a lonely game. You spend hours and hours crafting a great sales page or doing a ton of graphics or writing a blog post…then you send it out into the world and hope someone, somewhere will like it enough to actually read it and come back to you with wallet in hand.
Now, I don't believe that Justin spends too much time alone pining for attention, but he does do some amazing things in his acting and singing career that I think we can definitely emulate!
When you see this picture of Mr. Timberlake, what comes to mind? Suave, debonaire, you might even be picturing him in his Suit and Tie video. He is a serious artist with a very high profile…and also willing to do whatever it takes given the situation he finds himself in!
Exposure
So JT (Justin Timberlake as we like to call him around the dinner table) appears on the The Tonight Show with Jimmy Fallon and instead of just having the "normal" sit on the couch and tell us your story show, they do the History of Rap, dancing and singing and generally carrying on. Now this is a full on production with singing and dancing, choreographed to the minute and obviously something that was not just thrown togother.
As far as I can tell, they have done five of these shows, featuring different music each time. Now there is a good chance that JT is a big enough draw on his own to appear a few times, but these shows bring down the house, get shared virally on the internet and generally increase awareness for three things, Jimmy Fallon, Justin Timberlake and the Tonight Show. No wonder he keeps getting invited back!
Play Full Out
Look at these and then revisit the super snazzy guy in the picture post. Since we follow (stalk) JT closely, we know that he has been wine, a gingerbread man and many other goofy characters on the shows that he appears on. In every one, he plays full out which is the key.
If you are a fine looking, stylish grown man dressed in a wine bottle and only kinda sorta going through the motions, you are going to look dumb. But when you are living it, doing the best that you can and going for it, it becomes something really spectacular to behold.
No matter what you are doing in your marketing or business, please make sure that you are playing ALL OUT! Making videos, don't be wimpy, give them some life, show that you care, show some personality. Doing a webinar, don't hold back your best stuff, throw it out there and you will be surprised about how great a response you will get!
Don't Be Afraid
Everyone doing anything is at least a little afraid. The most outgoing extroverted human will still get some butterflies before speaking to a stadium full of people. If you are playing hard you will constantly be running up against things that make you a little nervous. Don't let them derail your momentum or make you stop!
This is not just about speaking or public appearances, it works the same for learning how to use Google Hangouts, or how to make really cool graphics or any other new skill. As humans we have spent millennia making sure that we DON'T risk life and limb just to check out a new tree or eat an unknown mushroom. Mistakes like that could kill you, but marketing rarely will!
So Bland Your Are Invisible
One last thing before we go! It can seem like a brilliant idea to make your "Stuff" appealing to everyone. To "dumb it down" so that no one finds it even a little bit offensive. That is the WORST strategy you can use. If you have to be bland to feel okay, you are going to struggle all throughout your marketing efforts. Bland is boring and great marketing is the opposite of boring.
Would Justin Timberlake be okay with bland marketing? I don't think so…he would recklessly run at it, jumping off the cliff fearlessly knowing that great things are on the other side!
(Visited 46 times, 1 visits today)