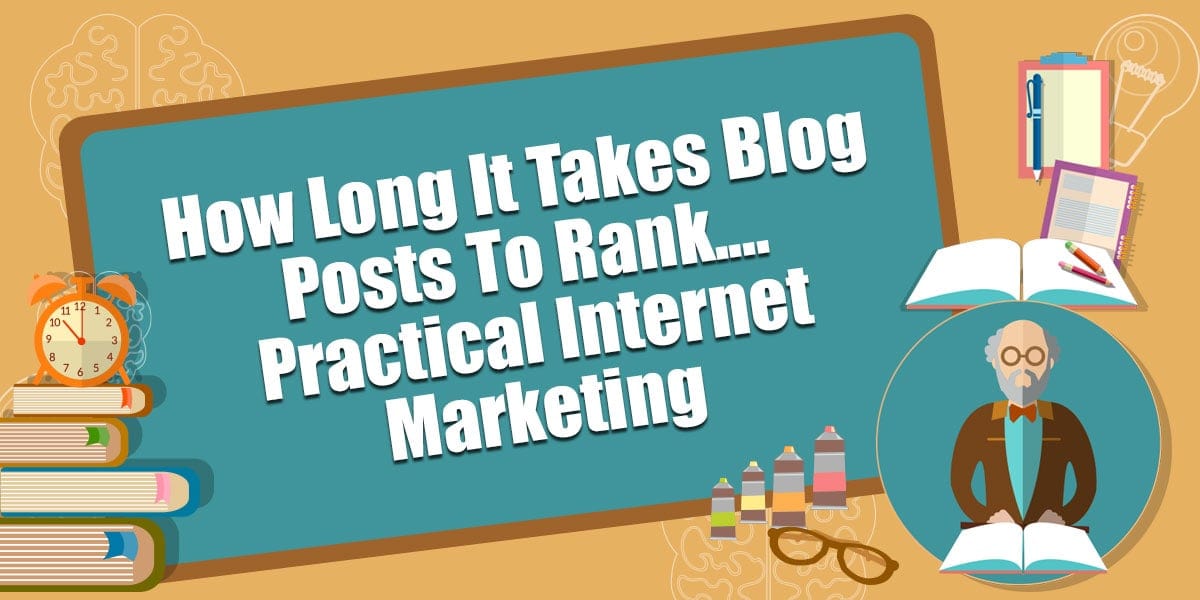 Ever wonder how long it takes a blog post to rank (or your website even). Here is a little bit of practical internet marketing to get your day started right!
Internet marketing is full of hype. There I said it. As a marketing professional I spend A LOT of time reading sales copy that tells you should have 100,000 Facebook followers by just doing this one little trick. That if you spend $497 on a course you can learn "the secret" to dominating something.
Now, don't get me wrong, I am a learn stuff kind of gal BUT what I find the most harmful is what all that talk does to us. How we get in our psyche a feeling that everyone else is having amazing success and they are doing much faster than we are.
Even I, intrepid marketer that I am, can feel like, "dang I am doing all this and not getting anywhere". Well today we stop that nonsense! I am going to break down blog posts and how long it takes to get them to rank and then give you tips on how to make it happen even better, maybe faster but definitely better!
My best blog post – 100 Great Email Subject Lines, gets around 3,000 hits per month. She is my little sweet pea and I adore her! That said, she looked a little peaked out of the gate. I had spent about 8 hours writing the post and collecting subject lines and wha wha wha…she just laid around for a bit.
This is the breakdown of how many views she got over time:
Written Nov 21, 2012 – first day, 50 views (whoo whoo)
Nov 21 -Dec 21 – 351 total views
Dec 21 – Jan 21 – 283 total views (christmas is a really bad time for my views!)
Jan 21 – Feb 21 – 1030 total views (Monday Feb 4th was a good day)
Feb 21 – Mar 21 – 1633 total views
Mar 21 – Apr 21 – 2876 total views
Apr 21 – May 21 – 3773 total views
May 21 – June 21 – 3370 total views
June 21 – July 21 – 2604 total views
July 21 – Aug 21 – 2736 total views
Aug 21 – Sept 21 – 2888 total views
Total views to date – 21,871

UPDATED 91,090 total hits as of April 2017

So what happened to make that a reality? A number of things.
First off, I wrote a blog post that is a helpful service to people. It took a while and honestly was just something that I couldn't find a good one of so I decided that I needed to make it.
Second off, I promoted the heck out of it. I did not just share it once and cross fingers that people would "get" it. I post it regularly to this day on Facebook, Twitter, LinkedIn and Google+ (really you can only post it once on the Pinterest, a couple of times if you put it on different boards). I also internally link to it (like I did today) and also post a link to the other blog sites I own. Just FYI I don't try to mask them or fool google, they all have the same analytics account so I am sure that the google knows they are all mine…oh and I do the author thing to make sure of it!
Third, there is a wild card that is other people linking into it. This is where that whole "if you write great content it will float to the top" comes in. That said, I try to help it along by doing what I can to share my posts.
BONUS INFO – Seasonal Blog Post Rankings
Okay, so I am REALLY interested in this stuff and I wanted to see what would happen if I had a post that probably would only rank seasonally. I wrote one that is called Work Quotes With Pictures and Labor Day Quotes.
It looks like this:
There are only four days that it is a rock star:
Written Aug 31, 2012 – 38 page views
September 3, 2012 – 438 page views (that was labor day)
April 30, 2013 – 122 page views
August 30, 2013 – 177 (the friday before labor day)
September 2, 2013 – 287 (labor day again)
September 1, 2014 – 287 (labor day again)
September 7 2015 – 126 (labor day again)
September 5 2015 – 76 (labor day again)

UPDATED 19,298 total hits as of April 2017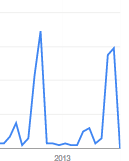 Now is she setting the world on fire, nope. BUT over the whole time she has been around she has gotten 19,298 views which is nothing to sneeze at!
Here is what the google trends report looks like for "labor day quotes"…same up and down around labor day…go figure!
This is crazy…a post that just sits there and churns out views, tiny bits at a time, month over month with some big hits at the end.
Would talk to you more today but have to head on out to make some more great blog posts that rank!!!
(Visited 1 times, 1 visits today)