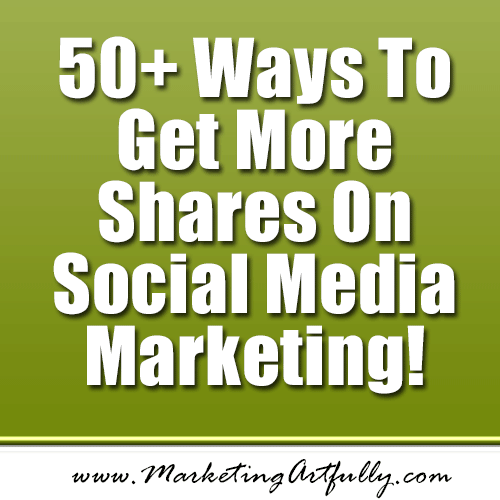 So the Holy Grail of social media marketing is to "go viral" and get millions of views of one of your posts, videos, etc. What about instead if you tried to get more shares on the general posts you send out there?
I am not good at math but I am good at marketing and having one post that "goes viral" is much less effective than having 100 posts that get shared at a much lower level but have a much broader reach. Some people who have had a message go viral spend the rest of time trying to duplicate that to no avail.
So what should you do? Try to get a broader reach by having people like, share or otherwise interact with your content. For each interaction, your social reach goes up and you have more and more chance that new and different people will share your "stuff".
So let's get started!
Blatantly ask for the like or share
'Like' if you agree, then 'Share' with others.
Pass this wonderful XXX on to all your family and friends!!
Check it out and "Like" the page
Please share…
please everyone share !!!!!!
Do give-a-ways that require sharing using tools like Raffle-Copter or GroSocial
Like and share ♥ – don't know if the little heart made any difference but it did stand out.
Feel free to share and tag pictures! – seems to be encouraging people to share on their wall, crowdsourcing content!
To win your chance to win XXX all you have to do is like our page, and like and share this post. Winner will be announced when this post has 100 likes.
Please share this page with Ashford Oaks Neighbors. – I like the specificity of this one!
LIKE, COMMENT, SUBSCRIBE, SHARE & POST!!!!
Let's have some input and I will make it happen. Please SHARE this so that lots see it and comment.
Why not share our page. We'll be posting up some yummy recipies soon!
Like if you agree, Ignore if you disagree!
(LIKE & SHARE)
Hit "like" if you're willing to cruise with Carnival. Comment if you're not.
Asking questions to get comments
Caption this?
Anyone interested?
Comment with your thoughts: should we….?
What is your favorite holiday?
What is your favorite….?
…other —> Comment below.
This ring true for you?
Yes or no? gets good feedback because easy for your friends and fans
True or false?
What could you do with…?
Why do you…?
Ask multiple choice questions (pick A, B, or C)
Can you give me your feedback on this?
Where do you go to….?
What is your best tip for…
What is the best…
What do you think of all the…
What is the strangest thing you have ever done to…
Do you like?
Which is better…
Post what people want
Now I am not a huge proponent of posting "stuff for stuff's sake", but if you are here, you are probably trying to get a foothold of more likes, follows, connections or something else important and posting "popular" content in and among your normal postings can help that!
Quotes from famous people
Quotes with pictures you make (these work great for me as I can use them on the Facebook AND Pinterest!)
Cats, everyone likes kitties!
Celebrities
Happy things – I did a search to see if happy things are shared more than sad things, no results yet, could someone mathy please research this and get back to me…:)
Industry related INTERESTING information – just found a great post for our Realtors to share that was houses made out of unusual things like an airplane!
Smart things – my favorite place to find smart AND funny things is the "I fucking love science" page on Facebook. With over 4 million likes, it renews my faith in humanity that smart, clever humor is okay too!
Post when it matters
Unless you are targeting Mountain time people (like I sometimes do), you should post all content at a relevant time for Eastern folks. In addition, I use these times as a guide not a hard and fast rule as sometimes you can be too cute for your own good and jump in when EVERYONE is doing it and miss out on the slower times' opportunities.
Twitter appears to like the afternoon the best with 5pm being the optimal time to get retweets, that said, noon and 6pm are also good times to tweet!1
On the Facebook, good times to post are noon and 7pm and one post every other day will increase sharing opportunities (I think this is because FB doesn't show EVERY post you have to EVERY person who could see it. Because of this, you increase your chances of being shared more if you post less often.1
Don't be shy
You should tweet out your blog posts at least 4 times for maximum exposure and sharing opportunities. I recommend using Hootsuite for this so that you can schedule them for the day you post, later the following day, a couple of days later and a week or so later, mixing up the times.2
Common courtesy
Sometimes it is hard to figure out who has shared your "stuff" but if you see that someone has, make sure to acknowledge them by liking their page or profile, sending a message to thank them and sharing something of theirs!
Some places I used to research this article…
One final note, this is an article about legitimate ways to get more interaction with your friends and fans. It is intended to help my small business owners with their social media marketing and should in no way be confused for "like farming" which a pox on society and a scammers dream.
(Visited 1 times, 1 visits today)