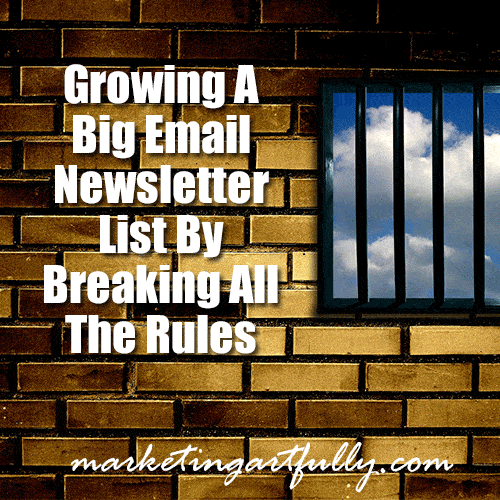 I am all about small business marketing, I spend almost all my time reading about, watching videos about and producing content about small business marketing. I have put in 10,000 hours many times over and KNOW what my passion is.
What I have come to find out is, that is not so easy for everyone. They have families and lives and hobbies and spend time NOT obsessing about their business. Weird.
So what the heck does all this marketing love have to do with growing a big email newsletter list?
There are many technical things you can do to grow a big email list, and you can find those all over the interwebs in much more detail than I would ever dream of including, but today's post is about making people WANT to join your email list, making them search it out and find it no matter what it takes and consuming your stuff because it is so awesome!
In this post, we are going to shatter two or three of the most basic email newsletter tenants and show you how some two ladies are rocking the world by doing "everything wrong".
Join my list calls to action and positioning

What is to the left is one of the absolutely most deplorable, ridiculous email newsletter signup campaigns I have ever seen. When you visit artist and scrapbooking supplies rep Dyan Reaveley's website, which is a free blogger blog by the by, you have to scroll a significant way down to find her newsletter signup tucked away among about a million other links.
Common sense tells you that she would get so many more visitors to sign up if she just rearranged her website a little and put the signup top right where it belongs. Oh, and don't get me started on her "join my newsletter" verbiage, in today's day and age, who wants to join a newsletter?…..except…um…I joined this weekend!
If you are just cruising around looking for scrapbooking supplies, you probably won't find Dyan's site at the top of the Google. Trying to figure out a technical bit about scrapbooking, you are still out of luck. BUT…
Looking for some great ideas, good solid stamps and products to use? Dyan is your gal. She is from England and talks funny. She calls paper towels, kitchen towels. She is admittedly lost in her work on airplanes and ignores the other passengers and she LOVES making scrapbooking journals.
Seriously? This chick makes a living doodling and coloring? YEP! As far as I can see, she has a business in England where she sells scrapbooking supplies, she reps for at least two different manufacturers who product supplies for journalling, she travels to trade shows and does demonstrations, she gets paid to do workshops around Europe and the US PLUS she does videos and blogs.
So back to building a big email list. BECAUSE of all the other things that Dyan does, she can have a tiny email list signup and still get people to click. Imagine if she had her empire PLUS a plan to communicate? I would LOVE to buy online classes from her, see her if she comes to Denver, hell invite her to come stay with me if she comes to Denver and generally consume anything this chick produces. Does your following feel that way?
Frequency of Email Marketing Newsletters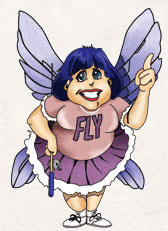 So conventional wisdom says you should be sending out a message a week, maybe even a couple a week, but every day? Multiple times a day? What about 10 times per day?
So there is this website about cleaning. The mascot is the Flylady and she is a little cleaning lady with fairy wings.
They send out, no lie, ten emails a day! They nag you about shining your sink and wearing tie up shoes. They tell you to eat vegetables and exercise and people LOVE them!
I have followed this gang off and on as I am organizationally challenged. Their no nonsense methods of getting your house clean and developing systems is right in my wheelhouse.
So here is another gal or group of gals that is making money online using email marketing. Not only do you hear about ways to clean, testimonials and purple puddles from the Flylady, but they try to sell you stuff every time!
That is right, they are selling purple scrubbers, purple mops, purple calendars and all other manner of purple cleaning products. And they get away with it because they have built and continue to feed a community of cleaning challenged people (mostly women) who want to hear from them on a REALLY regular basis as a support system for getting their homes in order.
Their message is GREAT (you are never behind and you can do anything for 15 minutes) and they have a friendly girlfriend tone to their messages.
So, ladies who clean and can write emails….hmmm who knew that could be a business model!
What is your passion and can you email it out?
So, what are you passionate about. What could you do 10-12 hours a day, seven days a week forever. No crying about a work-life balance, no whining about how you don't know the technology what would you do all day, every day for the rest of your life if you could.
Find that one thing and start building a following around it using your email newsletters to get them signed up! Be amazing and passionate about what you are talking about and you can't fail!
(Visited 20 times, 1 visits today)