Going way beyond email newsletters, contact management or relationship management software is a tool that companies use to prospect, track and communicate with their prospects, suspects and customers. It is sometimes called your database and is VITAL to your success!
First off, I have a confession to make, my name is Tara and I am a database addict. I feel that I have some good knowledge about databases because I have used so darn many of them over the years (5 in 7 years). These are just my impressions from using them and you will be happy to know that I have (finally) found the database love of my life and have settled down happily with Infusionsoft!
If you would like the basics about contact or relationship management software, please see below the reviews for additional information!
Contact Management Software Reviews – Infusionsoft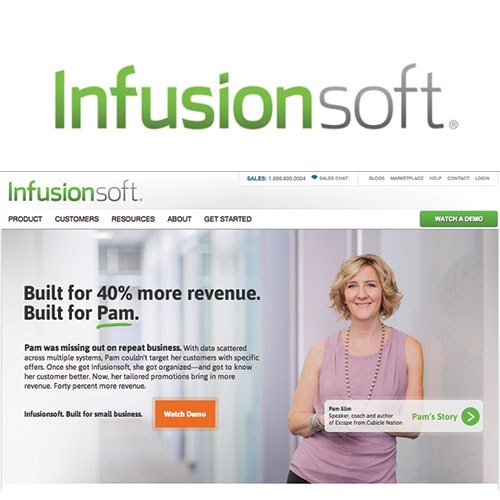 As you can probably tell, I am a little biased about Infusionsoft! After having gone through the pain of exporting my list, cleaning it up, importing it, getting people to re-opt in over and over and over, I have finally found a system that works for me!
Here are my pros and cons of Infusionsoft…
Pros
AMAZING campaign builder. Basically it allows you to visualize exactly what steps of a marketing campaign you have, combined with a drag and drop interface that makes getting your marketing going a breeze! If you would like to see the Infusionsoft campaign builder in action, click the link and forward to 38 seconds.
Incredible support. Infusionsoft has a setup cost and at first I balked at paying it. Seriously? You are going to charge ME for setting up YOUR software? Well come to find out it was actually to pay for get MY STUFF set up! They teach and hold your hand through creating good business practices and marketing funnels until you know how to do them yourself. To this day, I get an answer to my questions within 24 from my coach, even after we are done!
Business tasks. This is where some of the others fall down. Because IS is a contact management software (instead of just a database), we can schedule tasks and trigger events based off of what my team is doing. For example, my assistant calls emails everyone who signs up for my list. She doesn't have to scrape around in her email to find them, she just goes to her tasks, finds them and then either calls them with a pre written script or emails them with a pre written email! I have specific tasks that I remind myself of (like sending a thank you note when someone comes to meet with me!) Overall, Infusionsoft keeps things that need to get done from falling through the cracks!
Ease of use. Of the ones that we are going to talk to about today, IS is far and away the easiest one to use! I can create a web form, set up some emails and assign tags and tasks in minutes (my record is 10 minutes soup to nuts). The thing I like the most is that they can create web form pages that you can use instead of having to call your website company every time you want to test something out. I do our website stuff but know this is a prohibitive cost for many of our small business owners.
AMAZING integration with PayPal. They made it really plug and play to use your PayPal account for receiving payments. AND your contacts are loaded into the system at the same time…no double entry!
Easy video emails. Adding a video to your email is as simple as dragging over a box and entering the number of the YouTube video.
Cons
Dashboard. The only con I have is setting up the front page when I log in. I like to see what is going with my signups and other assorted stats and getting them on there is a little kerfuffly. Also, I would like to see my tasks instead of having to click through. update – tasks on the front page now!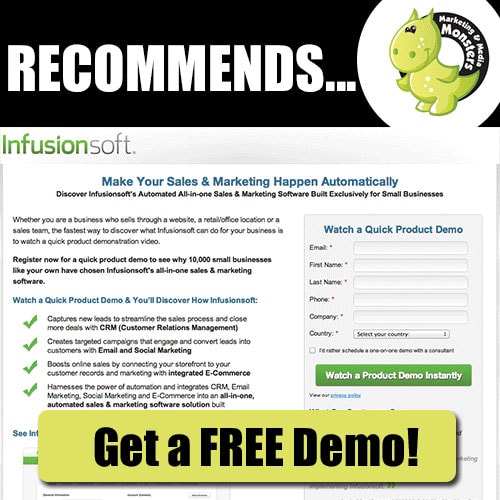 if you are considering Infusionsoft and this review helped, I would appreciate it if you would use this link to find out more…it is the only affiliate link in this whole article because I believe in my heart of hearts that Infusionsoft is the best (and my last) solution! check out Infusionsoft…
Contact Management Software Reviews – Ace of Sales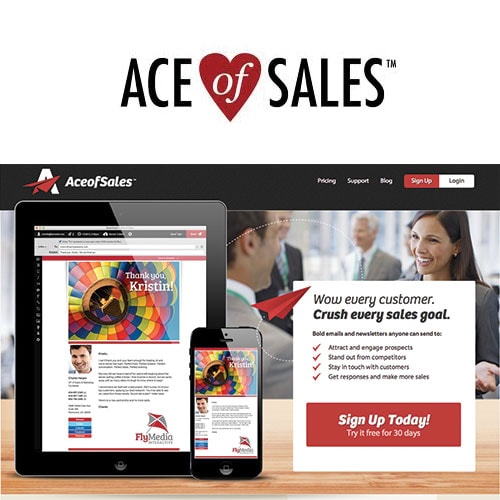 So I LOVE, LOVE, LOVE Jeffery Gitomer and so when I saw he had a database coming out I was SUPER excited. Him being a sales guy, I figured that it would be all about sales and marketing, an internet database for the ages…sadly, it was way less than that!
Here is my review of Ace of Sales…
Pros
Direct mail pieces right from your database. This was a real feature for me. I could customize and send postcards and thank you notes right from the database. This seemed much more efficient than having to download your people into Send Out Cards before sending greetings. That said, the selection was okay at best and they didn't update them very often.
Newsletters Part 1. They are very focused on helping you get newsletter signups. There are web form interfaces that you can use to get people into your database pretty easily.
Training. While they did not have a hand holder, I thought that the self-teaching training videos were well done and made it easy to learn the system.
Cons
Newsletters Part 2. So I get the Sales Caffeine newsletter from Jeffery every week and I thought, WOW, I am going to be able to crank those out looking beautiful like he does. If you click through the link, you can see how amazing it is and why you would want that. Sad to say, the newsletter templates that come in the system are FAR less than that. They are downright plain and not something that I felt good about sending to my people (and I am a graphic artist!)
Web forms. As I said, knowing that Jeffery is a sales guy, I thought he would rock out the internet leads. Not so much. Basically signing up for a newsletter was their big deal. I didn't have any functionality to make huge web forms that would capture data into different fields which leads me too…
It is just a database. Ace of Sales is not meant to be a CRM. It is a database that you can use to track your prospects and communicate with them but it does not have all the task management and the ability to sift and sort like the true CRM databases do. It felt a little like SalesForce which was one of my least favorite databases of all time!
Contact Management Software Reviews – Office Auto Pilot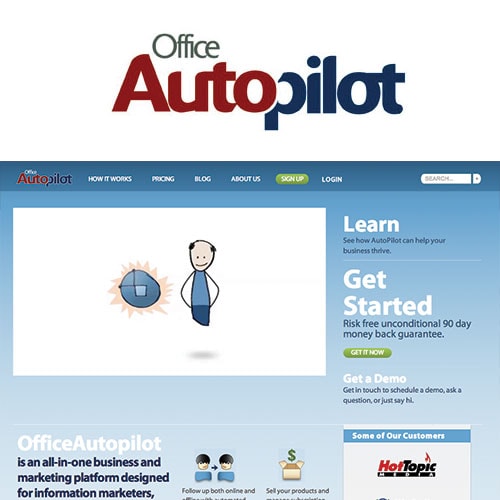 So I used Office Auto Pilot for a year and a half and have a current client who is still using it. Overall, I found it to be an okay database without some of the drawbacks that a couple of the ones had. That said, I joined under the premise that they were building out a new interface and were going to be making things easier to use. Never happened and most of the reason I left.
Pros
Was a powerful database with if/then capabilities! Much of what I love about Infusionsoft is in here
Had a good interface with a plugin that built a membership sites (more about that below). Designating posts as protected was MUCH easier than any other membership software that I have used!
Cons
The NUMBER ONE reason I disliked it was having no central interface. Adding a product and putting up a web page literally meant going to one tab for adding sequences, hitting another area for forms, going into admin to do another function, and about 2 other things I can't remember off the top of my head. It was very obvious that no though had gone into making the process easy to accomplish and the tech guys sort of had a, "well we can do, why can't you" attitude.
Membership site plugin. The membership site plugin was not updated very often and broke frequently when WordPress updated their systems. I am not techy so don't know more than that, but it was not a nice problem to continually have.
No email templates. Now, I AM a graphic designer and I CAN write HTML code to emails, BUT in this day and age, why do I have to? There were no built in formats for emails or web forms which was a real pain when it came to making sure that I was sending out properly formatted email messages.
Well that is the end of the contact management software reviews, BUT I have had a number of questions come in that I thought were vital to making a decision so I thought I would shoot them out here!
Aren't Contact Management Software (CRMs) just databases?
Yep but with added functionality like web forms, shopping cart features, autoresponders, email capabilities, etc.
Shouldn't I use a service for video emails like Talk Fusion or My Video Talk?
These services are sold by direct sales or networking people who you meet at your referral groups. I have a number of them in my sphere and am always sad when they talk about things that their company has said which aren't true. You DON'T want your videos on their own channel, you want them on YouTube, the second largest search engine in the world. You DON'T want a video company, you want an email company whose sole goal is to keep up their approval rating with the email providers like AOL, gmail, Brighthouse and Comcast. I do not get any video emails except Eyejots because they are on a blacklist and they never come to my Gmail inbox.
Can't I just use something like Constant Contact?
Oh my gosh, don't get me started on Constant Contact. They are AMAZING if you are dabbling in a business and have a couple hundred people on your email list. They are HORRENDOUS for adding people online through their forms. When you use one of their web forms, the people sign up and then come to a page that has what looks like a confirmation that you signed up BUT which actually has to be clicked to get someone into their system. We had a client that we drove THOUSANDS of hits to and he got a handfull of signups because they actually entered the info into the form and hit submit but did not know about the stupid extra step they had to do. (I try to stay factual and impartial but as you can see this one makes me crazy! I got slammed by my client because it was almost functionally impossible for people to use the web form to sign up and that just makes me mad!)
Why do I need such a big system?
I have been a database kid for years so I have a hard time answering this. OF COURSE you need more than a rinky dink email list. I will tell you what I tell my friends. 1) you need the ability to sort people – no longer is it okay to send one message out to everyone. 2.) you need to be able to do video emails effortlessly – one email with your shiney face in it is worth a thousand words. 3) you need to be able to make one system that works and then copy it over and over. 4) you need to be able to make web forms that funnel people into your database and get them on an autoresponder.
Just off the top of my head, the cost to cobble something like that together is about $50 for a regular email newsletter service, $50 or so for the video email service, $50 or so for send out cards so you can remember to mail stuff, a couple hundred to your web guy to set up forms for you, a couple hundred to your graphic artist to do your email template, etc. For me, having all this in one easy place is a godsend!
Can't I just use a button from PayPal to do the same thing?
First off, yes, you can generate a buy now button in PayPal. The problem with not hooking that to your database or CRM is that you will have to take those orders and then transfer them into your database so you don't miss repeat sales or upsells. So let's take my $3 Facebook ebook. I sell it cheap to get people into my system and then send them a series of autoresponders that get them to purchase other, more valuable information or content. I just made an order form and hooked it to a tag in Infusionsoft and the process runs seamlessly. They take the order, process the payment, send them the digital file, add the tag and then send out the emails for a predetermined time.
The End
Okay, if you made it to the bottom you are probably not just sending out email newsletters, you are probably thinking that you are getting ready to put together a comprehensive system and marketing plan. With that in mind, I would like to offer you something that I don't do often…a free 15 minute call to talk about what you are trying to accomplish and which system would serve you best. I promise this is not a 15 minute sales call but a super honest opinion about what you should do. The cool thing is that we do have access to some specials that are not available to everyone so if you do decide to check out Infusionsoft, we can hook you up right!
(Visited 60 times, 1 visits today)