I get this question A LOT and it is DEFINITELY a do as I say, not as I do kind of thing, "How long should my emails (blog posts) be?" Here are some words of wisdom from the interwebs and my experience.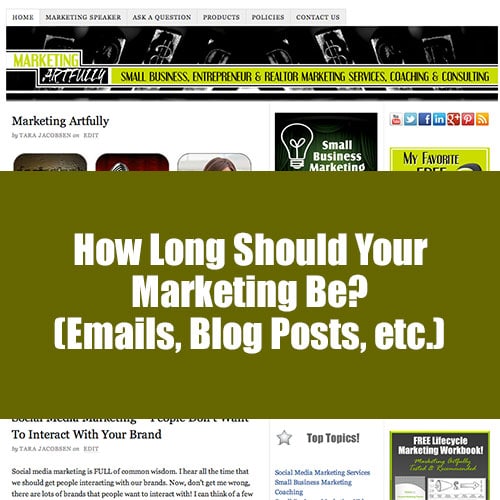 We need to look at a number of factors when considering the length of your messages:
First off, are you an established entity? I started writing seriously in 2008, have rarely had a post that was under 500 words and have a following that reads what I write. I would LOVE to take the advice of people who say that shorter is better, but I have long thoughts and I am not sure my audience would be happy with short, fluffy posts (not to say short is always fluffy, sometimes I should break my thoughts up into small ideas instead of having many concepts in one post or email!)
Second off, do you LIKE writing long posts? Gary Vaynerchuk, a two time best selling author is not a writer. His message comes to us via video and books with nothing in between. I tell you this because sometimes small biz owners are put off thinking that they have to write war and peace when actually, they could just use their cell phone to grow a following!
Thirdly, is your information technical or common sense based. While it would be nice to learn about how to do SEO (search engine marketing) a tiny piece at a time, not having the big picture could lead you do individual pieces that wound up angering the Google gods because you never got the big picture.
Lastly, is your learning style (and communication style) designed to do one piece at a time or are you a dive right in kind of kid? When I am learning, I get SO wicked mad when they parcel things out over 6 or 8 weeks. I have the attention span of a gnat for that kind of thing, but can immerse myself in a topic for hours and come out with a good understanding of the content so that is how I tend to roll. LONG posts and emails that are full of info work for my peeps, but may not work for you.
Alright Already, I Came Here To Find Out How Long Should Emails and Blog Posts Be?
Easy, about 300 words (that would have taken up to part way through my 4th introductory point of learning style). In fact, I was reading a 1,000 plus email from that nice Chris Brogan this weekend and he said so too..:) I have heard that as conventional wisdom for years from all kinds of sources.
But why 300 words?
Well, I did a BUNCH of research and it does not seem to be a read-a-bility factor but more so to satisfy the Google and make it a minimally sharable link.
BUT….SOOO happy about this…while 300 words seems to be a minimum, it does not seem to be optimal! That nice Matt Cutts is the Google guy who tells us what is okay to do SEO-wise and what is verboten!
So, what I take from this is that 300 words is acceptable, but not necessarily well thought out or informative.
So, your emails or blog posts should be in excess of 300 words long, informative and helpful to the reader. THAT is how long your marketing should be!
(Visited 16 times, 1 visits today)