Promotional products are a super fun part of marketing! I recently attended the Denver Business Technology Expo and had the chance to collect some "swag" for a scientific review of effectiveness… i.e. I asked the nerdy guys at the show what they liked the best AND asked my geeky husband (he is a database admin) who has seen A LOT of tech trade show promotional products over the years. Throw in my marketing intuition and you should be able to get a good idea of what kinds of products would work well as tech trade show handouts!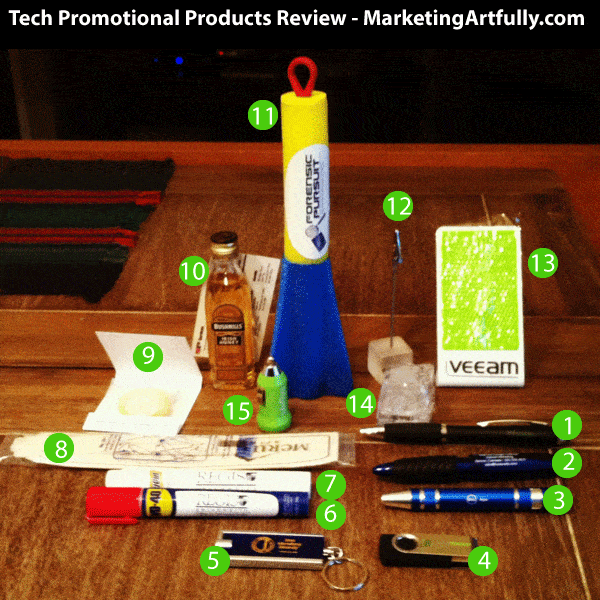 Let's get right to it…
1. Infusionsoft, who is a sponsor to this blog and Travis Campbell, the Marketing Professor, invited me to be their guest at this event. They had a REALLY nice handout, a black pen with the InfusionSoft logo AND a stylus tip. This was very well thought out to appeal to the tech industry!
2. Hostworks, Inc. offered a rather neat pen that caught my eye, nothing special, just appealed to my ascetic. A word on this, there were LOTS of pens, if you are going to give away a pen, you best be sure there is something AMAZING about it or it will just languish in the swag bag doing nothing but taking up space. One thing I did not see was Gel Highlighters like I use in my business – they go over great and make people want your stuff!
3. Both Dell and Storagecraft offered this pen. First off, I wasn't sure what it was and when I hefted it, it was heavy for its size! Well, come to find out, it was actually a screwdriver with all the bits inside. Based on how many times my hubby uses screwdrivers, I HAD to have one to take home for him and he LOVED it! This was my second place winner for swag handouts!
4. USB jump drive from HighTouch Technologies. Thought that this one was great, looked snazzy and who doesn't need a jump drive. Will DEFINITELY not throw it out and may share it with someone else.
5. Flashlight from Jones International University. This one seemed like a blast from the past. Could be that they are great handouts for college students who need to get to class in the wee hours of the morning, but at a tech trade show felt a little out of place.
6-7. Regis University on the other hand had a great, well thought out handout. This is our first arts and crafts handout (where they use stickers on a basic product to brand them). What I liked was that they had WD-40 for the geeks (a hot item) and stain stick for the ladies (I can always use a stain stick to throw in my pocketbook!). Overall a nice showing and practical!
8. This one was SUPER FUN, a glider with the Mercury Networks name, although they weren't playing with them there AND the amount they had seemed to be limited as they had to consider whether I was worthy to get one. If you are going to do a swag handout, have enough to give one to everyone, throw them around, share them, give two to people with two kids. If you can't afford to get that many, do something else! on a side note, they did not have their url on their glider, there are million mercury networks and I would not be able to find them after the event….just something to think about
9-11. Okay, Security Pursuit is a little dicey in my opinion. They had VERY attractive young ladies in nurses uniforms handing out little bottles of booze and condoms branded with the Security Pursuit name. That having been said, they were the talk of the show and there were guys manning booths not on "the strip" down the middle who were sad they hadn't gotten a visit from the girls. On the other hand, I am not sure that anyone was noticing the company or asking about their products. It is a fine line. They also had a craft product saily thing that they WERE playing with and making a big splash. Overall, have to say these guys were there, having fun and raising awareness of their products. Honorary mention as I can't make condoms a winner!
12. This holder thingy from Comcast is probably better suited somewhere else but I LOVED IT! It will sit on my desk saying Comcast, holding my papers upright for years. That having been said, the techy guys looked puzzled when I showed it to them and thought the idea was lame when I explained it.
13. VERY snazzy swag from VEEAM. It is a phone holder that keeps your phone upright on your desk. It is a high quality handout and seems like it would be VERY useful. They had lots and handed them out freely! Good on you Veeam…gotta give them 3rd place for this one!
14. Wah, wah, wah. This shining, flashing ice cube from Fortinet was GREAT at the show, flashing on the booth and drawing people over. The problem is, the battery died before I left the building and while I like the idea of a freezable ice cube, without it flashing I am not that interested (plus I would need more than one to be a practical ice cube solution). I get the concept but handing out something that is a disappointment in 5 minutes doesn't seem like a great idea!
15. Last but certainly not least is the USB car phone adapter from latisys. WINNER, WINNER chicken dinner. These are REALLY nice, they came in two colors (I took the green of course) and there were LOTS of them on the table. I would definitely use it in my car and everyone at the show seemed really jazzed to go over and "talk" to them and pick up a present. Best in class for sure!
Tech Trade Show Promotional Products
So now that we have gone over the ones I have in my hot little hands, let's talk about Trade Show Swag and what you are trying to accomplish!
First, you want the chance to bring people by your booth so they can hear about your great product. Please, please, please send the talky people from your company to the tradeshow. Too often there are three guys sitting in the booth talking amongst themselves, worried that they are going to look too aggressive if they speak to anyone. Great swag doesn't overcome a bad booth staff.
Second, you want to give them something relevant to the industry. Booze and condoms are not relevant to network security, although they did get me to write about them so points for that! The ones that seemed most coveted appealed to the techy side of the attendees and which had a high value.
Third, if you can do something venue specific, rock it. The event was held at Wings Over The Rockies, an air and space museum so the two who had flying swag had a really neat story to tell!
Lastly, you want them to keep it on their desk, in their pocket or elsewhere they can see your brand and think of you everyday! While we don't use Comcast, the fact that they will be holding my papers up and in my view EVERYDAY is a bonus for their brand.
Do I think tech show promotional products are going to help sell a bad service or product, no. Do I think that promo products can help brand your company, start a conversation or just give someone a smile, YES! If you are going to do tradeshows and go to all the expense of attending, why not give yourself the best shot to make a GREAT first impression!