Social media marketing always makes me think of the old Chinese Water Torture method, drip, drip, drip!
When you are doing any kind of marketing, it is always your goal to make a HUGE bang, a BIG splash, heck, why not go whole hog and buy a Superbowl ad and get the word out to MILLIONS of people at once!
Unfortunately, social media marketing is not like that. There is A LOT of demand for attention and there is a VERY short shelf life for your "stuff" so you have to keep on doing it, growing it and trudging on, day after day!
Now, please don't get me wrong….I LOVE this stuff…growing big networks is HARD and the strong survive! I also see a bunch of people come onto the scene and then fade away slowly as they get busy and bored (GREAT for me and my clients!!!!)
Social Media Marketing – Consistency Is Key
So you get up on Monday morning and decide that today is the day, you are going to start REALLY hitting the social media marketing hard…onto the sites.
First question, do you do Facebook, Twitter, YouTube, Google+ or Pinterest (the new darling of the social media world). Unfortunately, you really do need to have a hand in each. Your future clients may be on the Twitter, tweeting their hearts out or they may be Pinning pictures over at Pinterst. I think it is important to do them all, but here are my top reasons for each of the ones that we focus on:
Facebook – I think you HAVE to have a presence on Facebook for your human and your business. It IS a huge time sucker, BUT for right now it is a way to have a strong showing where people already are. The drawbacks I see are people building their whole business model on Facebook without having a "HUB" where they are driving all of the traffic to (their main website that they own). Facebook is a tool, not something that you should build your business on! Make sure to have a strong person (profile) and business page too.
Twitter – I KNOW, you think Twitter is stupid BUT it is a super good tool for getting keywords and information out about your business. People who use Twitter are very committed and you cannot afford to ignore them in your social media marketing. The fact that it is open source means that developers had made tools to use it that you cannot even imagine which help spread the word about your business!
YouTube – within three years the first contact anyone makes with your company will probably be through a video or a picture. Most of what you share will be short bursts of "stuff" and you have to get in a good habit of having videos out there on the internet describing your services, showing your personality or featuring your products. In the meantime, YouTube is like any other social network, you can get subscribers and make connections with other users…start this immediately!
Google+ – I wrote a whole post about why you need to circle people on Google+ to show up well in search. Google has integrated G+ into the search and you cannot afford to ignore it, even if you don't love the social networking aspect of the service.
Pinterest – this is a funny one…I DO think Pinterest is important because of the photo sharing aspect BUT it is still in its infancy. That having been said, you should at least dip a toe in, start getting content up there and then start making friends. The downfall I see is that there HAVE to be compelling photos to share that link back to your site (like the photo for this post) or no one will want to share them.
Having started this and not wanting to make this the Magna Carta, I will break out each of the social media marketing sites to let you more about what you should be doing on each to make the most of your efforts!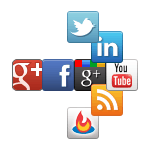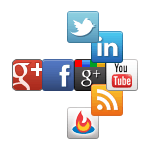 Okay, most small biz owners are overwhelmed, disgusted or confused by social media. What is it, why do they need it and how should they fit it into their already busy schedule?
We work with small biz owners to help implement a social media marketing plan that will work for their company! Find out more about our social media marketing services or call today to talk with real live human being! 727-415-9165