Photo sharing sites and apps are a big deal in small business internet marketing! These are the wave of the future so grab your board and let's get going!
My prediction is that within 2 years and 9 months (used to say 3 years but gotta move the bar!) ALL initial contact with your company will be through a video or a photo first. Now, I am not one of those who say that tablets and phones will take over laptops and computers BECAUSE I am WORKING on a computer. Love to surf on my tablet, dabble on my phone, the portability of my laptop, but for hard-core, bang it out and get it done, I have to sit my happy ass in a chair and WORK. Not on teeny tiny screen but on a dual monitor, giant processor computer.
So what does this mean for me and using photo sharing apps on my phone? TODAY I draw the line in the sand and figure out which photo sharing app I will use! Here are the criteria:
Is it easy? This is my NUMBER ONE criteria. EVERYONE thinks I am a techy doll but I can't even hook my mouse to my laptop so I need ease of use!
Can I get it from the phone to the other social sites I need (for this experiment I am considering primarily facebook, pinterest and google+ – just to let you cats know, NONE of them shared to either Pinterest or Google+ at this point so focused instead on facebook, twitter, flickr and email)
Can I take pictures on my phone and NOT have to email them to myself to access them online for other uses like blogging or posting later?
Who has recently been bought by whom? Instagram has recently been brought into the Facebook fold so this is where I will start BUT want to consider other options because I am not only interested in how it works with Facebook!
As with all of my experiments, this one will be highly unscientific and biased! I will be taking pictures in relatively bad lighting of a duck. SOOOO sorry to my actual social media friends who have to see this on my various walls! Let's get started!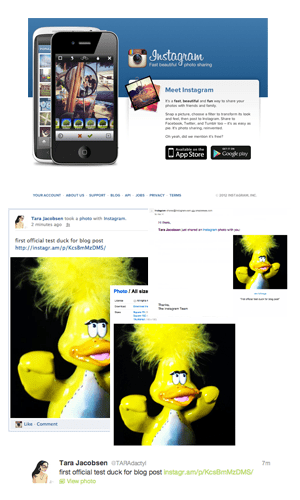 Photo Sharing Sites and Apps – Instagram
I did not have to research to check this one out. Instagram was bought by Facebook and so will obviously be a good choice for them, BUT are they a good choice for my other needs?
First off, I downloaded the app to my phone. Rats, had it but forgot my login, heading to the website to see if I can reset it…yup! Easy peasy, they gave me my password AND username…score! No picture…I'm sure they want a picture picture but really, just use an avatar (clients could use a logo), not digging this so much but moving on (later was able to pull in my Facebook picture so it worked out okay after all).
Leaving the website and heading to my phone to take a picture of a duck! Push the camera button, bunches of style options come up,picked one, check mark, heads to screen to enable caption, twitter, facebook, email, flickr, tumbler, foursquare. Hooked up twitter, facebook, email and flickr for now. A note, facebook's authorizer was in french (ack), I did NOT hook up foursquare because it hooks to my Facebook already.
DOH – forgot a caption so it said "just posted a photo" instead of what it is…trying again! Perfect.
Instagram Review – Okay, I like that I can tooggle on an off the the different services and there is an email with the picture as well as being able to pull it down from Flickr. BONUS – the instagram put the picture into my photos on my iPhone so I can upload it Pinterest from there if I wanted to! Seriously two thumbs up.
SUPER BONUS – if you are playing the Empire Avenue game, then one picture adds like a gagillion points (not sure how the points work so my numbers may be inflated).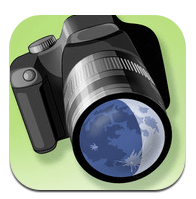 TruHDR
Okay, this is an artsy fartsy one. It makes pictures look dimensional and I like to think that it makes me look like a brilliant photographer (I have ACTUALLY brilliant photographers all around me so I am a little touchy about this!).
So I took a picture of the duck, then went looking for the sharing bit, NOTHING! Hmmm maybe get creative? WOW!!! I could upload my artsy fartsy photo TO the Instagram and then share it on the ones that I had set up. Holy Buckets batman, have to see if I can find a good competitor to make this a fair race!
Photo Sharing Sites and Apps – Photoshop Express
Okay, take a picture of a duck…:) I am getting good at this! There are MANY more editing tools that I am used to from Photoshop like hue, saturation, cropping, etc. Have to say that I am not good at using a little tiny phone to edit pictures, if I was going to be manipulating them a lot, would probably take them down off the internet and do it on my computer.
Okay, BIG downer here!! I set it up so that I could share to facebook, email and flickr (no foursquare or twitter available like there is on Instagram although you could send it to TwitPix but damn, how many sites do I need?!?!!?) So all happy, hit the share button and I have to do them one at a time. Share to email, share to flickr, share to facebook, are you kidding me?!?!?!
For an editing software, I think this one is hand's down, the winner. BUT for a click and go photo sharing app? Two thumbs down on this one.
Photo Sharing Sites and Apps – Wrapup
Okay, I am in. Instagram it is. Took a little over an hour to write this post and check out ALL of the different photo sharing app places and take pictures so if you budget an hour to learn it, you should get out the door super easy! The ONLY thing I can see ruining this commitment is if Facebook shuts off the other sharing features and turns Instagram into a Facebook only photo sharing site, but will keep the faith for now!