Spotting a spammer is pretty easy. Most of them do not even try to hide their nefarious activities, screaming at us to BUY, BUY, BUY and generally making marketing hard for the rest of us marketing pros.
With a new social media platform coming on scene with a lot of fanfare like Pinterest has, OF course the slimey spammers are going to be out in full force to make things icky for everyone.
What is Pinterest?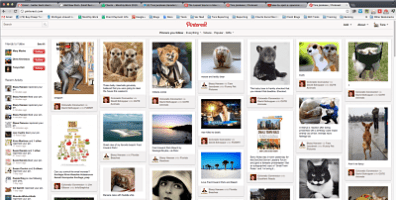 So, for those of my small biz peeps who have been too busy working to follow all of the social media trends, Pinterest is a new, free, photo and video based social media site. It allows you to save picture from around the internet, organize them into "boards" and then share them with your friends (less socially and more visually based marketing).
There are some really neat things you can do to capitalize on the power of the visual BUT there are also creepy spider people around who are looking for ways to corrupt this wonderful, amazing tool (can you tell I am over the moon for the Pinterest?)
Here is a really quick video to show you how to spot spammers!
So basically look for:
Too many boards
Lots of boards with only one pin
Incongruent pins and board names
Too many following and not enough followers
No description at the top
No likes
Bogus twitter account
(Visited 2 times, 1 visits today)