Entrepreneur marketing is all about getting your branding out there. Recently there have been a whole rash of new internet marketing eponyms that are actually verbs!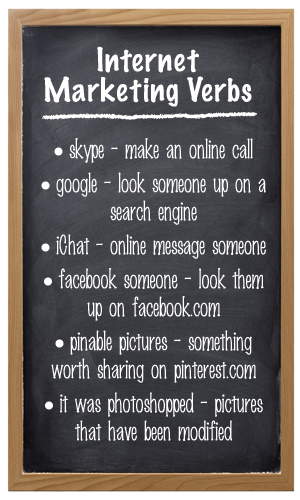 Not to get all grammar-y, but in today's post we are going to be talking about nouns and verbs. Nouns and verbs (according to Websters Dictionary) are:
Noun: any member of a class of words that typically can be combined with determiners to serve as the subject of a verb, can be interpreted as singular or plural, can be replaced with a pronoun, and refer to an entity, quality, state, action, or concept
Verb: a word that characteristically is the grammatical center of a predicate and expresses an act, occurrence, or mode of being, that in various languages is inflected for agreement with the subject, for tense, for voice, for mood, or for aspect, and that typically has rather full descriptive meaning and characterizing quality but is sometimes nearly devoid of these especially when used as an auxiliary or linking verb
Doh, those are some meaty definitions! How about this, a noun is something that IS and verbs are something you DO! (on a side note, it is no wonder that it is so hard to learn English as a second language!)
Branding From The Past
Branding in the past was more passive. The TV industrial complex told us what we should buy and like good little consumers we ran out there and got what they told us to. Here are some of the branding words from the past (all nouns!)
Kleenex – if you had to blow your nose, you reached for a Kleenex, where you were using an actual Kleenex or a Puffs or some other brand
Coke – around the country, coke has been used as a noun for any brown carbonated beverage including when you actually got a Pepsi
Walkman – if you are a little older, you probably had a walkman, which was actually any kind of device that you could listen to music or books on
Band Aid – this one is HUGE! I am not sure I even knew there were other brands of adhesives to put on cuts
Thermos – while there are now hundreds of companies out there making insulated containers, we only call them Thermoses (or would it be Thermi?)
Interesting note, when I was researching this post I found an article from the BrandXpress blog who says these are actually eponyms (a general term used to describe from what or whom something derived its name. Therefore, a proprietary eponym could be considered a brand name which has fallen into general use) – who knew there was a name for this? Also, if you want more lists of brands that are verbs check out Fun With Words – Proprietary Eponyms.
Branding and Internet Marketing Verbs
The thing that I find the most interesting now is that no one person or Madison Avenue marketing company is telling the masses what the branding words are! It is being done by committee, through use rather than by marketers through force of ad dollars.
Here are some of my favorite internet marketing verbs:
To Skype someone – making a call over the internet
Googling someone – looking them up on a search engine to find their background
iChatting – my techy husband says that when they want to talk they iChat each other which is messaging over the internet
Facebooking someone – either looking them up on the facebook or connecting with them on that social media
Pin-able pictures – this is a huge one! the picture for this post was deliberately made "pinable" for my marketing board – having to be worthwhile to share is going to make a huge difference in blogging and graphic design!
It was photoshopped – meaning a picture was manipulated in a graphics program
I am sure that there are a gagillion other new Eponyms verbs for internet marketing, if you know of any I missed, make sure to leave a comment with your favorite!