Local marketing experts will tell you that the only thing that matters is getting to number one on google, or having the most fan page likes, but rarely will they tell you about the things that REALLY matter to sales. How you treat people IN PERSON, once you get them there matters even more!
So, local business owners, first I want tell you about some marketing books you need to go get and read right now:
I would love if you read them and then came back, but at least put them on your book list or radar to read if you own a local business and care about local marketing.
What they mostly say is that to succeed in business you have to be customer centric and unique in the marketplace – BOILERPLATE ALERT. So what do those fancy terms mean? I thought it would be easier to tell you about a great local business, rather than describe them (ad nauseum) in a blog post.
Water 2 Wine in Greenwood Village, CO
I do not wax eloquent too often about service from a local business. I am generally happy to snap a picture and throw something up on FourSquare to show my appreciation, but last night's experience required a little more. I was meeting some friends before a networking event at a wine bar (I am a beer girl) so had low expectations, plus I was early, again…sigh.
Walked in the door and was greeted by a nice lady who didn't push me to order and who headed me in the right direction for the loo (restroom for those of you who don't know the technical terms). Now, ever since I was a little girl and saw a fountain in a bathroom, I have been fascinated with facilities. These were gorgeous, clean and (gasp) had wonderful high-end toilet paper. Seriously, they had me at Charmin!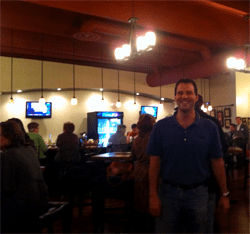 Next was the nice bartender (who I found out later was the owner) who asked me about what kinds of wine I wanted and proceeded to give me samples of three I tried. PS – he knows what he is doing, every time I tried one I thought I would like, WRONG, all of his, spot on!
The networking started and he mingled, made sure everyone had a nice time and generally helped make the evening great.
So onto paying…first off, I had trouble understanding that they were not charging me for the tasting….really? Okay, well here's the charge, where is the tip line so I can add a nice little gratuity…what? No tipping?!??!!
They are nice to everyone AT A STORE LEVEL…from the owner, to the bartenders, to the nice man who seemed to be a barback and who got me a glass of water, apologizing that they don't have ice (probably so goobers like me can't ice the red wines!).
Okay local marketing class? What have we learned today?
A culture of caring starts from the top down – Employees are like kids, they model what they see and if you have a caring attitude, it will shine through to your employees.
Give more than you said – No tip means that I saved $2 – I charge between $100 and $250 an hour for consulting and you can't buy a promotional post on my blog so for less than the price of a cup of joe, they guaranteed that they got one more raving fan (and some free marketing).
Raving fans – when I was saying I was coming down for networking (I usually don't leave the home at night) the ladies I know all said I would LOVE Water 2 Wine. These kinds of apostles out in the marketplace, telling everyone how wonderful you are – priceless.
Multitudes of Awards – you don't even have to take my word for it that this place is BRILLIANT, they have won the 2011 Denver's #1 Wine Shop and Wine Bar AND the award for Denver 5280's Top of the Town.
I KNOW, not all that much marketing and more customer service today, BUT SO important to sales! If you know a great place in your area who could use a customer service shout out, post a link and I will add it!!!
Lastly, thanks Marcus for being such a good business owner and a downright nice guy! If you would like to check out Water 2 Wine, click the link to visit their site! Or better yet, head over there for glass of grapes…
Water 2 Wine
9608 East Arapahoe Road
Greenwood Village, CO 80112
303-799-9463
(Visited 30 times, 1 visits today)