Google plus business pages for small business marketing are here! Here is my take on how to make a Google Plus page for a small biz (which may be a little different than what you would do for a giant corporation!)
Check out the Marketing Artfully google plus business page!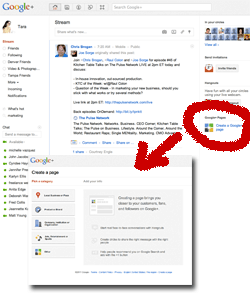 Let's start at the beginning. You get your page at the right side of your Google Plus Profile. Then up jumps the question of whether you are a location (brick and mortar business), a brand (like Snickers or Crest), a Company, Institution or Organization (that is what Marketing Artfully is!), Arts Entertainment or Sports or Other (don't pick other, it is hard to classify other and you may miss opportunities).
Next comes your tagline – 10 words that describe your business (these should be your 3 main keywords!). Add an avatar – this is a square like the other Google Plus Profiles so no big, beautiful banner yet. Tell your friends – DO NOT do this yet, there is nothing on your page!!!
Post some stuff, circle some people and bang – you are ready to go!
HUGE NOTES – Make sure to circle your own page so you can find it (there didn't seem to be an immediate link in google search to it, even using the plus sign). Also, fill in your about us (looks like a good place to drop a couple of targeted backlinks and add some photos so it is pretty!)
Google Plus Direct Connect
Okay, this looks like a biggie and something that is out of our control! What it functionally is the ability to add that page from google search by using the plus sign (+) before the brand. In the description below the Google Plus text says, "You can automatically add Google+ pages to your circles from Google Search. Just add + in front of the page you're searching for. Directly connect with pages this way from now on?". I answered yes!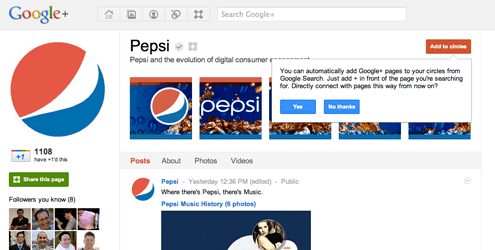 Google Plus Direct Connect looks like it should be a post all by itself as this is what hooks to google search and adding to the circles, BUT since we are not able to DO anything about it, lets move on to a FACEBOOK to GOOGLE comparison.
Facebook To Google Translation
Okay, they say there are only like 6 stories in the world and that every other thing comes from that. Social media is like that and if you can figure out what make them similar, the learning curve can go down considerably!
Share on Google+ Is Like Share on Facebook – functionally this takes the page you liked and shares it on your human profile.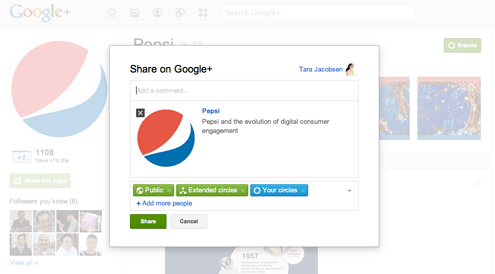 Circle on Google+ is like Like on Facebook – I made a circle named brands so I can keep all my businesses together for now!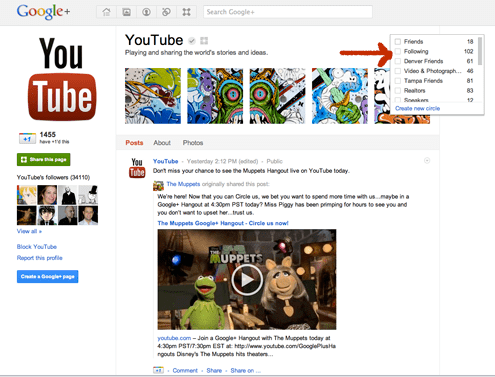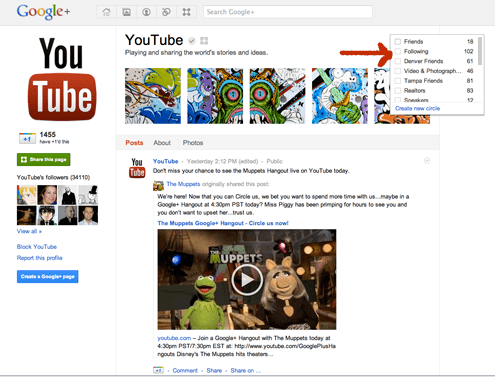 Google Plus Pages Terms of Service Notes
If you would like to read the entire Google Plus Pages terms of service, click the link. Here are my top notes that apply to our clients:
You may not display third party advertising on your Google+ Page. – Functionally this means that you can sell any of YOUR products or services on the page but not have anything like affiliate marketing or paid for ads from a third party.
Subject to the Google+ Pages Terms, any Google+ user may create a Google+ Page, but only users with authority over the subject matter may administer the Google+ Page. – YAY! We can work on our client's pages legally!
Any contests, sweepstakes, offers, coupons or similar promotion on your Google+ Page must also comply with the Google+ Pages Contest and Promotion Policies. – Looks pretty liberal if you are doing good not evil!
Nothing amazing here. If you are conducting your business above board and simply trying to get the word out, you should be fine!
Social Media Marketing Services
If this all seems like to too much to do, check out our social media marketing services and we will get you set up on this and all the other social media properties right away!
(Visited 1 times, 1 visits today)