Free social media reporting tools are used to check how your social media marketing efforts are working. While I wish there was just one tool that worked well, we have found that using a nice mix of them gives you a broader, more comprehensive picture of what is going on. Additionally, because they all use different metrics, you will see different places that you can work to make your social media better! You may also like yesterdays post Free Website Reporting Tools.
Free Social Media Reporting Tools
When I was doing the research for this I found that there were actually two types of tools, social media reporting tools (which showed what you were doing and how it is going through the internet) and social media monitoring tools (which show when people are talking about you or your brand). Because we work with mainly small business owners, the monitoring feature is less vital and so we focus on doing the front end right with great content and sharing.
Klout
Klout is GREAT for seeing an overall picture of what the internet perceives your brand as. They aggregate your information across multiple social media properties like Facebook, LinkedIn, Twitter and YouTube (plus a couple of more).
What you see is:
Who you influence (who responds to or shares your posts)
What topics the social media world thinks you are about – this is especially good for making sure you are staying on target topics wise
Seeing what your "style" is – I am listening and focused which I could change by being more interactive and proactive
This is good for a quick hit to see how your overall social media message is going.
This one gives you a snapshot view of what is going on across a number of different reporting tools like Klout and Peerindex, in addition to their own reporting.
They show you a lot of good details like:
Who has been interacting or sharing your "stuff" recently
What your twitter style is – I am considered an Everyday User
How many followers you have and how many people you follow
What topics and communities you tweet about the most – the funny thing is that this shows different items than Klout does, hence the reason for checking across a number of different free social media reporting tools
This one is pretty basic, showing how many followers you have an how many people you have followed. What I like though is that you can break that number down by hourly, weekly, monthly, three months or six months. Additionally, they project how many twitter followers you will have, given your current rate of adding people.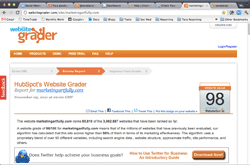 Twitter Grader
I have a fondness for this one as it has been around A LONG TIME in twitter years. It is basically just a snapshot of how long you have been tweeting, how many followers you have, how many you follow and a neat graph that shows that progression over time.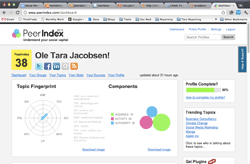 Peerindex
Much like Klout, this one aggregates a number of different social media properties but the really nice thing is that it includes the ability to add your blog feed also!
Some of the things it reports are:
A really neat chart to show whether you are basically spreading information about arts, technology, science, medical, lifestyle, sports, politics or business
How you compare to similar uses according to audience and authority
General stats for your social media properties and blog
Topics you post about
Overall, I have to feel that if I could only pick one, this would be it. It has the ability to add all my main properties like Twitter, Facebook, LinkedIn and my blog (would like to Google Plus on there too but it is not available at the time I wrote this post).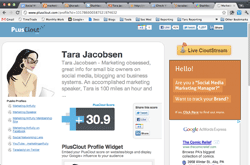 PlusClout
I am not really sure what this is measuring at this time, although I am so pleased to see at least the start of a free social media reporting tool for Google Plus that I had to add it in here at the end!
:: If you would like to find out more about our Social Media Marketing Services, click the link and talk to us today! ::