In store events are a great small business marketing ploy to get people into your brick and mortar business! They can be big or small, but all are effective if you are committed to making them AN EVENT!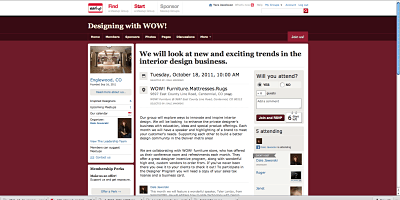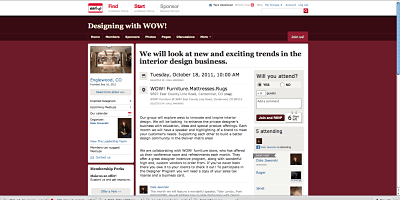 What Are In-Store Events?
In store retail events are not just about having "a sale" (please say that with a sigh in your voice!) Having a reason for people to come to your brick and mortar business does not have to be a cause for losing revenue, in fact, I think that it should be a cause for increasing revenue and making more sales!
There are many types of in-store events across many different types of businesses, but I thought that this one was especially well thought out!
Designing With Wow
One of our friends, Dale Jaworski (an Denver interior designer extraordinaire and specialist at WOW Furniture) sent us the above Meetup email about her interior designers group. The content of the email was:
Our group will explore ways to innovate and inspire interior design. We will be looking to enhance the private designer's business with education, ideas and special product offerings. Each month we will have a speaker and highlighting of a brand to meet your customer's needs. Supporting each other to build a better design community in the Denver metro area!

We are collaborating with WOW! furniture store, who has offered us their conference room and refreshments each month. They offer a great designer incentive program, along with wonderful high end, custom vendors to order from. If you've never been there you owe it to your clients to check it out! To participate in the Designer Program you will need a copy of your sales tax license and a business card.
What They Did Right
If you are looking to start bringing in more in-store traffic, this is the way to do it! Here are some of the things that I LOVE about this event:
It is FREE – they are not trying to get people to pay for the pleasure of coming to the store! Instead, the store is offering a space available to interior designers who are their target market for sales.
It is VERY specific about what the attendee will get, "enhance the private designer's business with education, ideas and special product offerings."
While the speakers will be highlighting the product offerings, if they do it right, the overall feeling will not be SELL, SELL, SELL on Dale or WOW's part, the feeling will be that they showed them great ideas, and, amazingly enough, they are available right downstairs!
So you have this meetup and get some people in the door. What now? This is how I would follow up with the meetings:
Send a handwritten thank you card for attending – there are currently 5 signups so that would not take a huge amount of time! PLUS 5 highly targeted, engaged designers is better than having a hundred schmoes in the room.
Set up a postcard program to invite them to the next event (Meetup.com will send them an email – you should send them a card).
Call them in the meantime to take a "back of the house" tour of WOW. Everyone likes to see behind the scenes and this will build your rapport with the designers.
There are about a thousand other things you could do, but this is a start!
(Visited 27 times, 1 visits today)