Small business marketing launches can be confusing! You have already been selling your product or service for a while so why would you need to "launch" it again?
What IS a small business marketing launch?
If you have been on the internet for any time at all, you will notice from time to time that multiple people send you the same exciting opportunity email OR your favorite company starts sending you a bunch of emails about the same topic. This is called a "launch" and just means that they are focusing on getting the word out about one of their products or services (could be a new one or re-launching an old one).
The concept is great and can generate a lot of buzz for your company. Here is an example of a product launch done by Seth Godin and the Domino Project in conjunction with Ibex, a sports clothing company. The ways we small biz owners can use the concepts are in italics!
IBEX LAUNCH OVERVIEW
First Ibex partnered with Seth Godin, a REALLY big name in marketing and his Domino project which helps launch books for self publishers. They were promoting the publishing of Ralph Waldo Emerson's book, Self-Reliance, and trying to generate new customers for the Ibex company. Ibex gave away $15,000 worth of clothing to people who tweeted out a link to book giveaway and mentioned their hashtag (#ibexwear).
The Ibex Contest Rules:
1. To enter, you must do the following:

follow @projectdomino on Twitter – you could do this! offer a free giveaway to one of your twitter followers!
during the dates of the sweepstakes (From 6am ET on May 25, 2011 – 5pm ET on May 26 2011), send out a tweet about the publication of Ralph Waldo Emerson's book Self-Reliance (in Kindle or hardcover) – make a condition of entering your giveaway that they tweet out something
in the tweet, reference this URL (http://bit.ly/emersonSR) and use the hashtag #ibexwear – YOU set the hashtag to use, so for Marketing Artfully University I might use #MAU to designate the hashtag
only relevant tweets are eligible, and people tweeting the code more than four times a day will be disqualified.
Here is the entire contest page.
What Ibex Did Right!
Partnered with Seth Godin (who has a great marketing blog and huge list of followers) meant that A LOT of people heard about the contest – as a small business owner, you don't need millions BUT find the influential people you know and ask them to help. These are called "affiliates" and may do it for free or may want to have a small cut of the profits.
Offered a free giveaway – you do not have to give away thousands of dollars, offer one or two copies of your hardcover book, a free website membership or even an hour of your time to people who participate.
Drove people FIRST to follow them on Twitter – this helped them to build up their twitter following!
Did it in a tight time frame – this is my least favorite part of launches – you need to do A LOT of promoting in a very short time and be available to facilitate it the entire way through!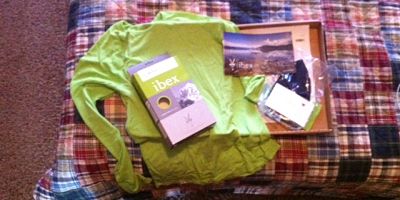 While I MIGHT have posted about this contest anyways, I for sure wanted to give Ibex a shout out because they (1) picked me to win a $50 gift card and (2) included a free cap and a handwritten note when I got the product in the mail! Check out David Starkweather's post (Ralph Waldo Emerson in a Wool Shak? | What Great Marketing Looks Like) about how he won a card also!
Which brings me to my final point. Seth Godin attracts marketers. Marketers tend to be talky-talky people who share things and have blogs and who are built to tell people things! If they had chosen say, Michael Jordan, to pair with, they may have gotten the initial boost of his popularity, but THEN would a bunch of athletes have spread the word even further by blogging about the great marketing campaign? I am not sure, but I don't think so.
No matter what your industry, if you are going to do a small business marketing launch, make sure to have connector-type people helping you or you may hear a resounding dud for your efforts!
(Visited 1 times, 1 visits today)