Social media has become the buzz word for small business marketing. Everyone wants to jump on the bandwagon and get a piece of this new media channel, without realizing that there is a huge amount of time that needs to go into their efforts.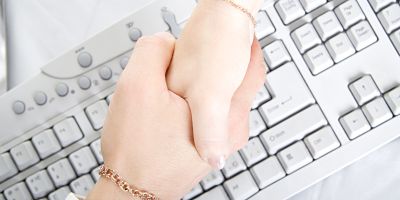 At first, when small biz owners decide to use the Facebook, Twitter or LinkedIn to grow their customers and prospects, they are all shiney and happy. They are going to get a piece of those 600 million people, all ready to buy their product or service TODAY and all it takes is a little tweeting, right?
They set up their profiles, but don't want to give TOO much personal information because, really, what does it matter, they are just here to SELL, SELL, SELL! Then they wait for the orders to roll in. Tick, tock, tick, tock. No orders.
What happened? Social media marketing is the promise that all you have to do is show up and great things will happen, right?
The Real World of Social Media Marketing
I liked when social media marketing was originally called social networking. That is truly a more descriptive term for what happens on the different internet properties. I KNOW, you have heard that it is like a real-life networking event and you get it, BUT…
There are no buts about social networking, it is JUST like real world networking. You "meet" someone through Twitter or Facebook, say something nice about what they are doing, talk back and forth with them and establish a connection that will hopefully lead to a sale or referral somewhere down the line.
You would not attend your first networking event with new people and start by handing out credit card signup forms, would you? Not if you want to be invited back! When you are getting started with social media marketing, dip a toe into the waters and offer something of value to the people who are considering increasing your relationship.
Setting Up A Social Media Strategy
So what exactly SHOULD you do to increase your likability on social media? Here are some of the things that small biz owners can do:
Post relevant industry information that would be interesting to readers (for a painter, this could mean posting the new colors for the season with a comment about how that translates to their geographic location)
Make Friends, Likes, Followers and Connections in your geographic area and share interesting events and information (for Realtors, this could mean posting area happenings, links to attractions and only then, open house events and new listings)
Find complementary links (for an exercise guru, posting healthy recipes makes sense)
Share your clients and prospects triumphs (if someone has something great that they post, share it or retweet it to your following!)
What Is A Good Sales To Information Ratio
We get this question A LOT! A good sales to information ratio on social media is at least 5 to 1. Five non-sales, non-selfish posts to one salesy, or self serving posts. Again, this goes back to real-world networking! If you are at an event and introducing a friend around to everyone, talking her up to the crowd and generally helping her business, when you do slide in a request to sit down and talk business, she is more receptive to hearing what you have to say.
Some Final Tips
First, don't try to be fake on social media. If you are a nerdy, engineer type in person, your online friends will like you for that on Social Media. Outgoing and crazy in real-life, you have much more latitude to cut it up online. Remember, at the end of the day, if you are successful at getting a sale, you are still the one that will show up to work with them!
Second, unless you are truly passionate about politics or religion, keep it off your Social Media radar. Talking too much about left or right wing politics can turn off roughly 50% of the people who might have wanted to work with you. Having EVERY post reference your religious preference can be off-putting to the online people you connect with. That having been said, if you live and breathe these topics, it will show up when you do anyways and being fake won't change that!
Third, get ready for changes. It used to be that we could buy a yellow page ad once a year and be done with marketing. Now-a-days, you have to be willing to roll with the changes that happen, sometimes on a daily basis. Something that works great for you on Facebook may change overnight and you must be willing to adapt. Accounts get frozen or canceled, groups come and go, but once you have the ability to build big networks, you just move on and start building again. The one company that I always think of when I start to get complacent is AOL. If I had told you in 2001 that AOL would out of the picture by the middle of the decade, you would have been astounded. Networks change, sites change and it is the bold marketer who takes those changes and makes a great impact!
(Visited 1 times, 1 visits today)