Facebook app developers have something new out everyday and since we do social media marketing services, we get the heads up early! Today's latest and greatest is BranchOut, which seems to be an app that makes Facebook more like LinkedIn.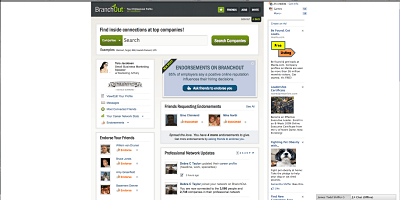 If you have spent any time over here, you know that I am not a super-fan of LinkedIn for most small business owners because of its focus on job seekers and large corporate interactions. As this is a small business and entrepreneur blog, many of our readers are not positioned to take advantage of most of what LinkedIn offers so why would l want to add an app to Facebook which would make it more LinkedIn-y.
Well, I will tell you what I told my clients, if it DOES take off, I want them to be positioned so that they are the ones being asked to connect rather than having to go out and connect! Check the link if you would like to read a bit more about my Social Networking First Responder Advantage.
Facebook BranchOut Connection
For those of you who use Facebook for small business marketing rather than to play games, Apps are little programs developed by outside interests that run inside of the Facebook framework. This is one of those apps and the developers have done a really nice job of making it easy to set up and use.
Setting Up BranchOut For Facebook
Simply log into your Facebook account then put http://apps.facebook.com/branchout/ in your address bar OR search for BranchOut in your Facebook search bar
BranchOut will ask you to allow it to access your Facebook information, friends, etc., if you want to use this app you MUST let it – I have not found it to be spammy or to have sent any horrific messages to all my friends, just the ones that I suggested they contact.
Next it will ask you to connect to your LinkedIn account – if you have your LinkedIn account set up well, go ahead and say YES! It makes it much easier to grow your network and you don't have to fill out a whole bunch of fields. Note that it will overwrite anything you previously entered into BranchOut.
It will ask you to connect with people – doing this puts a message on their wall so I used mine judiciously BUT remember that DO want to give your friends the first responder advantage too so it is not a bad thing!
That is it – it takes me about 5 minutes to set up a BranchOut account for our social media services clients so time is not a huge factor here!
Things I like about BranchOut for Facebook
It is SUPER easy to set up
It might take off and then I am going to like it even more
It didn't spam my entire list of friends
It shows that I have over 100,000 connections which is a good marketing number to use in advertising
It shows my network and how many connections they have – this is good as I can then see how many more I need to get to beat the next guy up!
Things I do not like about BranchOut for Facebook
It has SUPER cheesy "awards" it gives for levels of connections. Now I am not a recognition person so getting a pat on the head never makes me excited BUT I know some people like this as evidenced by the popularity of the FourSquares and GoWallas of the world.
It is not super clear what they consider a "connect" – do I have to instigate it to get credit or is it about which of my friends are on there in general?
I stand by assessment that LinkedIn is more for job seekers and corporate types, BUT if they can add a more small business function I am on board – time will tell!
My esteemed recommendation to small biz owners is to take the 5 minutes to set it up, ask a couple of friends to connect and then see how it goes!
(Visited 1 times, 1 visits today)