Many small business owners are looking for easy small business marketing ideas and simple marketing strategies. This post is going to get you back to basics with 10 easy small business marketing ideas that do not cost an arm and a leg!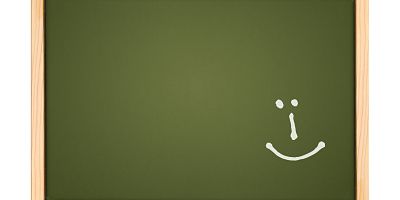 With all of the hype about social media, mobile marketing and the like, it can seem that every marketing idea requires an advanced degree and a big budget. I am here to tell you that there are many things that you can do VERY simply and with a small budget!
Test Test Test
Okay, first let us talk about HOW we are going to implement these ideas and whether they will work for your business. I am a big proponent of starting small and seeing if your small business marketing idea is going to work. DO NOT order 1,000 flyers or 10,000 brochures. Order 100 and see if they work. Post your flyers at 5 locations and see if anyone bites.
ALWAYS ask your clients how they found you. If they are a chatty sort, ask why they picked you! You need to know what is working and what is not so you can do more of the former and less of the latter.
Top 10 Easy Small Business Marketing Ideas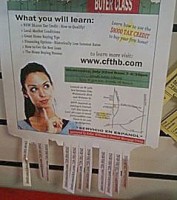 Old School Marketing Flyers
This flyer was posted at a local UPS store. The cost was about ten cents for the paper and a little bit of time for the design. You cannot get more old school or simple than this!
Because this UPS store has mailbox services for small business owners, I would assume that there would be traffic for this flyer. When I am checking out a marketing opportunity, the first thing I want to be sure of is that the audience I THINK is going to buy will. The number of little tabs torn off says that this message is being read and that people are willing to take action on it. Now, the big thing to note would be if anyone actually called or visited the website on the tabs.
Business Cards
I think that business cards are the Rodney Dangerfield of marketing. They are small, so you can carry a bunch of them around with you and they are cheap so that you can buy A LOT. I am categorically opposed to flipping through a stack of different cards for your different businesses and trying to figure out which one to give to a prospect BUT, that having been said, why not split test some different designs?
Have one card with your Facebook, Twitter and other contact info on it and see if you get more "friends". Have one card with a "free consultation" message and see if anyone bites. These tiny marketing pieces are a great way to find out what people really want from your small biz!
If you would like to find out more about the lowly business card, check out my post, Is Business Card Marketing A Dying Art Form?
A Small Business Marketing Postcard
When you are prospecting and getting leads, many times a follow-up postcard will prompt them to give you a call. While you can do a convoluted follow-up plan, having one general postcard that you can drop in the mail with a hand written address can go a LONG way. I use Vistaprint for all of my basic printing needs as they are VERY CHEAP!
Send a Small Business Marketing Postcard Part Deux
If you have a budget, sending out a "real" postcard campaign can be a very effective tool. Your mail house can buy lists of businesses or consumers in a targeted geographic area for you. I LOVE postcards because they are colorful and stand out in the mail AND since fewer companies are using direct mail these days, your message will stand out. HUGE BUT, make sure that your message is a good one with a call to action. Include a coupon, drive them to your website for an offer, or give them a reason to call you like a free report or free consultation.
Because this is a higher cost marketing idea, there is less room for error. I would test, test, test with cheap postcards to make sure you get a good result BEFORE starting a mail campaign. Also, plan on sending up to 5 times. It is true that to reach people you must show up more than once a year. If you are looking for a great mail house, I use Mailco, make sure to ask for Tammy.
Old School Press Releases
We have a friend who is an old school PR gal. She gets GREAT coverage from the press for her clients. Just write a press release and then send it into your local papers. Don't forget neighborhood papers as well as the big newspapers in your city. Make sure that you write the press release as interesting story! No one wants to read ABC Company Launches A New Website, EVERYONE wants to know about the 70 year old technology whiz who uses his computer to sell music online.
Join Your Chamber Of Commerce, Rotary or Lions Club
If you are selling to brick and mortar businesses, get to the Chamber, Rotary or Lions Club. The small biz owners who have a budget and who could afford you are probably members of one of these groups.
Go Where Your Customers Are
We talked about this a bit in the flyers section BUT this is a biggie. If you are selling cars, go to the car shows, road rallys and other automobile related events. If you are selling wedding related items, attend and have a booth at the Bridal Shows. Frequent bride related online forums and participate. I work with small business owners so I go to networking events, teach classes and attend other small biz events. If I was looking for Mommys I would go where the they are, the public library, daycares, mommy and me events, school events, etc.
TShirts, Ball Caps and Stickers
If you can make something fun, have a great character logo or do something neat, TShirts, Ball Caps and Stickers can be a great way to get the message out. NO ONE wants to wear your company logo on their shirt, but they might wear our unofficial tagline, "Bad Marketing Hurts Everyone" if we make it pretty enough. When I was young, my parents owned a bookstore and we got tshirts all the time with a catchy slogan on them that helped to sell the books. Make sure to produce high-quality items that are appropriate for your target market, if you are targeting men, golf shirts are great but would be dud with the Mommy crowd.
Using a Database or Spreadsheet
In marketing, it is all about getting the click or call BUT you will not accomplish anything unless you have the follow-up behind you. Make sure you put ALL of the prospects that you get into a database (I use Infusionsoft for my database). THEN on the wall beside me I hand write the top 5 prospects so that I can make sure to focus on getting their business. Another way I have found that works to track leads is to write them in a notebook with their contact info. I then transfer them over to the next page each week so that I know who is active or who has said no. This is a great way to do it as you can make calls to them when you are stuck waiting for your kids or at the doctors office!
Swap Client Lists
Once you have a database or lead spreadsheet, you have a marketable commodity! If you are a realtor, partner with your lender and send a great postcard out to BOTH of your mailing lists. If you are a jeweler, find someone who has a list of men type people who can be shamed into ordering for their wives (a florist with a good list comes to mind). If you want to mail out your own message, ask the person with the list if it is okay to include an endorsement or add a testimonial about the product from the list owner.
So there you have it, 10 Simple Small Business Marketing Ideas! If you have any other ones you like, feel free to share them in the comments.
(Visited 2 times, 1 visits today)