Real life networking can make a huge difference in how fast you can grow your business. Getting out there and talking to groups of people who have the ability to hire you can produce high quality leads.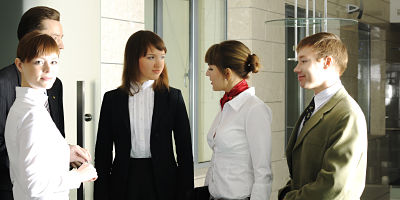 BUT, (you are saying to yourself), if that is the case, why are you schlepping around to 20 networking events a month and getting no business? There are myriad considerations that you need to look at to determine if you are doing the right kind of networking. Here are my top tips:
How To Pick A Networking Group
Picking a networking group based on demographics – If you are selling a product that only is used by companies with 25 or more full time employees, networking off of meetup.com may not work for you. You may have to join Chambers of Commerce or industry trade groups to get the kind of buyer prospects you are looking for. On the other hand, if you work with small business owners (like we do), many of the meetup groups are perfect for finding propects who may be able to use our services.
Picking a networking group based on interest – If you are involved in boat sales, picking a networking group that is involved in boating or water sports will fit the bill. In this case, you better be passionate about the product you are selling or they will spot you as a phony a mile away! This kind of networking requires that you know a lot about your industry, AND it is a brilliant place to get speaking opportunities.
Picking a networking group based on the time it meets – This is SUPER important. If the networking groups you belong to all meet at night and you are an early bird, you may miss meetings and also not be at your best to shine. I would love to join some of the networking groups that meet in the evening around here but know that I would be cranky and would find excuses to get out of them. Instead I focus on finding groups that meet during business hours with the kinds of prospects I am looking for!
How To Pitch Yourself or Your Product
Know what you are selling – It is impossible for people to buy something from you if your product offerings are vague. Stand up and say in a clear voice, "I sell X" OR "I work with X types of businesses to…" OR even the old standby "I am looking for the types of clients who…" I attend a bunch of networking events where people talk about their services like THEY don't know what they are selling. "Well, we work with, um, I guess the kind of people, ah, well I guess I like to work with". ARGG. NO ONE is going to give you their hard earned money unless they know that you are going to give them a value for it!
Tell them what is in it for THEM – Instead of saying "we are a metrics focused company with legacy technology, leveraging the power of the internet…", say "we help small business owners get their websites found on the internet". I see A LOT of selling features versus selling benefits at networking events.
Do not tell them everything about your company all at once – I have seen many networkers come to one networking event and never show up again. Invariably, these people spend about 10 minutes in the middle of the 1 minute commercial telling everything about their company, as fast as they can. This never works, "real" members roll their eyes and stop hearing you after about a minute and half!
Marketing Materials to bring to Real Life Networking
There are some great pieces that you should bring to networking events and I rarely see anyone with handouts so you are going to stand out even more.
Your business card – make sure you have your Facebook and Twitter names on this too. Businesspeople are looking for how to stay in touch with you which will equal more sales!
An offer for a free consultation – offer a 15 minute free phone consultation. Basically you are getting people to make your follow up calls for you!
Upcoming events – if you are having an open house or sale, give people a handout with the date, time and location. Extra credit if you print it on a colored piece of paper that will stand out from the rest of the papers!
Your brochure – I order mine from VistaPrint so that I can buy them cheaply enough to give to everyone I meet. Having a high end brochure that you are afraid to "waste" is a recipe for disaster.
A coupon – offer a discount coupon good for a set period of time or a set dollar amount.
If you are going to take your time to go to networking events, make sure you are using that time to the best of your abilities. Take every opportunity to speak if they have a member spotlight, get business cards from everyone and enter them into your database. Do one on ones with people who could help your business or be a prospective client. In general, make it worth your time and effort!
(Visited 1 times, 1 visits today)