Facebook Groups, Friend Lists and Business Pages are hot questions for small business owners in my inbox right now. Since Facebook launched Groups Version 2.0 last week my peeps have all wanted to know what the difference are between the three.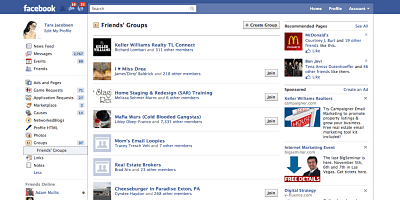 Here is a screen capture of your groups, you find them on the left hand side under your name (if they are not there, click the "see more" to find them). Once there you can see your groups, your friends groups and the groups other people have invited you to.
From reading about where why FB may have implemented these new groups, I get the impression that the 5% of people using the Friend Lists was not enough of a adoption rate for the gang over at Facebook so they decided to make it easier for normal humans to categorize people. Also, the privacy settings that could accomplish this same thing are REALLY onerous to use. In a bit I will break down what seems to be the best uses of the different types of Facebook applications for business.
Making A New Facebook Group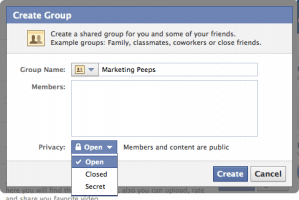 To add a Facebook Group go to www.Facebook.com/Groups (while you are logged in) and then click "create group". Once there you get a dropdown with the choices of Open, Closed or Secret. I cannot begin to tell you how much I do not believe ANYTHING on Facebook is ultimately secret so I highly recommend you do not pick secret. To add people, click in the big white box and start typing their name. Once you have added people, the normal Facebook box comes up and you have the option to post a link, photo, video, event or document. You can also add a picture to your group or chat with them all at the same time through the group interface.

Adding a message to my group (which I set as open) did not post that message on MY profile but my buddy Deb Ward DID get this message the next time she logged in, "Tara Jacbosen added you to a group". This is one of the big grouchy things that I have heard A LOT online, ANYONE who is your "friend" can add you to a group – it is more of an opt out than an opt in kind of gig.
Here is a Facebook Groups overview video from the FB gang.
Facebook Groups, Friend Lists and Business Pages
Because my readership is comprised of small business owners, if you are a mega business and have tens of thousands of "fans" or "likes" on your business page, this is not the post for you, nothing to see here, move along. If you are a small business person, I will reiterate what I tell everyone – FRIENDS are the lifeblood of Facebook. Friends are necessary for the new groups AND for making lists of people. I have about 3,000 friends and have added them this pretty aggressively so worrying that you will run out friends fast is an unwarranted fear for most small business owners.
If you watched the FB video, you will see that you can also make an email address to contact all the members of your group offline. I STRONGLY recommend that you use your email database (like Constant Contact or Ace Of Sales) for this instead of Facebook.
Uses for Facebook Groups
Here are some suggestions that I have heard for using groups. As my primary use for FB is business related, most of them have no real draw for me, BUT they could be useful for you!
Contact your family – if you are hesitant to post pictures of your children that everyone on your friends list has access to, this may be a GREAT way to avoid unwanted viewing of your family.
MLMers or businesses with a sales team – you may want to share certain things with your team only. I have to say for this function I use GoToMeeting ($50 a month) or Webex (Free) instead as I can do real time screen captures and also save them for future viewing.
Have a "special" group that you send messages to – I made a marketing peeps group and invited people who were REALLY interested in marketing. Within an hour I had someone request to join the group!
Here is an article from Duct Tape Marketing with some more good uses!
Uses for Facebook Business Pages
As far as I can tell, Facebook business pages are still the only area that FB has designated a "sell" zone. It violates the terms of service to sell aggressively on your profile and I can't imagine that people on your groups are going to love getting daily sales message emails either. We are seeing great results from our clients who have gotten a custom Facebook page and recommend this for any small business owner.
Online Events – We always make our events attached to the business pages. For online events like webinars and teleseminars, you can notify the people who like your page AND your friends.
In Person Events – We also add our events to the business page as we generally charge for admission. This way I do not even put a toe over the line to violate those terms of service.
Videos – We have handy dandy videos on the pages that help people AND make them more likely to "like" our page.
Notes – Notes are a BRILLIANT way to get some SEO love from Google – they index fast and stay up about a month or so before dropping down in the rankings.
Paid Advertising – It is REALLY easy to advertise with Facebooks paid advertising using your business page.
Overall, I can say that we are still going to be focusing on business pages for our clients. There is no sense in building up a great group when that functionality is so easy already in the business page.
Uses for Facebook Friend Lists
Okay, here is my pitch for why friends are so important to small business owners. I KNOW you can get THOUSANDS of likes for your business page, but have yet to see anyone but celebrities, big companies, hard-core internet marketers or silly things gain that kind of following. For business building, I find that having "just" 5,000 raving fan friends will trump having gagillions of people liking something that is inane and not at all related to generating actual sales.
Friend lists allow you to laser target geographic areas – there is a dropdown box at the top of the Friends page where you can select cities. Because I speak in Colorado AND Florida, I have a Tampa Friends list and a Denver Friends list. Just do a search and then add your friends who live in proximity to that list.
Likes on my business page are stuck there – when I do a new business page I can invite my friends by suggesting it. I have yet to find a way to cross promote my business pages to each other.
Events – adding an event to any of my pages allows me to "suggest to friends"!
New Facebook Groups – even your new groups rely on having friends to invite.
All in all, I use a business page to conduct business, I use my friend lists to laser target messages about events and sales opportunities and I am not sure that I am going to jump on the groups bandwagon just yet. If you have some great ideas about how you are using any of these Facebook features, please leave a comment and I will add it to the post with a rocking keyword linkback!
(Visited 6 times, 1 visits today)