Using Facebook for Non-Profit Fundraising is a great way to get your message out to numerous people quickly. The added bonus is that Facebook, like all social media is FREE!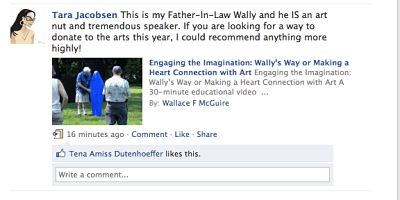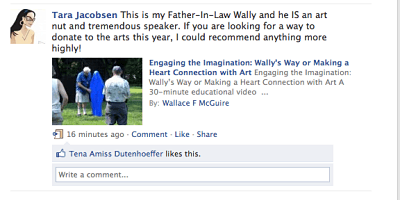 So WHY is Facebook so good for helping to raise money for non profit organizations? Mostly it is because the viral nature of Facebook encourages sharing your passions, both personal and business. This positions non profits in a great way to help make more money for their organization online!
Using Facebook For Non Profit Fundraising Case Study
So I was trolling around on FB today and BAM I saw where my Father-In-Law, Wally McGuire, is trying to raise money for a video about his unique brand of teaching at the Storm King Art Center. Now just let me tell you, he is an accomplished artist and teacher who has worked with Storm King for years so he has the teaching chops to be featured in a video. That is the first thing you MUST have – a REALLY good, believable cause.
Next I realized that he had accidentally done a GREAT job of posting it because he used a Facebook Note. These are visible outside of the Facebook framework and are not limited to Facebook users. Here is the note about Wallys Excellent Video Adventure!
Some things he did right:
He shared the note with all his friends
He posted it more than once
He put a way for people to donate by check (more about that later)
Now for what he could have done better…
Facebook For Non Profit Fundraising Tips and Tricks
Facebook Causes – Facebook has a really neat built in application called Causes which is great to use for fundraising. BUT there is no way you can set-it-and-forget-it with your cause. You MUST tend and nurture it or it will not be a huge fundraising source for your charity as show in this Washington Post article about To Nonprofits Seeking Cash, Facebook App Is Not So Green Here are some of the best articles I have found about using Facebook Causes:
Facebook Custom Business Pages – Having a business page is standard fair now, non profits who want to stand out need to step it up a notch and get noticed need to have a custom facebook business page! Here are my top reasons why this is so important:
With a business page, you can control all aspects of your message, AND you can invite people to be "fans" of your page
You can keep people engaged with updates about how your projects are going and what their money is being used for, creating an ongoing stream of donations
You can easily add a PayPal button to your page and people can make immediate donations. The people raising money for my father-in-law decided that they did not want to give PayPal the %5 or so cut that any credit card company takes, but we are working to get that button on there. More people will pop into PayPal than will walk downstairs, write a check, find an envelope, get a stamp and run to the post office. There are TOO many points of failure there to make me feel good!
Well there you have it – some quick down and dirty tips for using facebook for non profit fundraising! If you have any other tips, let me know in the comment section OR if you have great links to helpful info, they are welcome too!
(Visited 1 times, 1 visits today)