Facebook classified ads are as simple and hard as the rest of Facebook! We choose to use the Facebook Marketplace for our services clients to post their listings. The photo is showing Joy Phelan, Lakewood CO Bookkeeper, two ads for her services.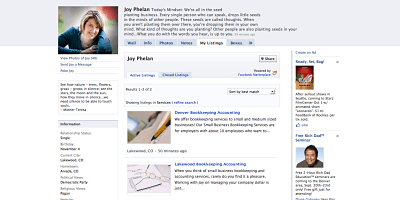 The marketplace was pretty easy to set up. Simply go to the search bar at the top, type in Marketplace and add the application to your page. Once you have that set up you will instructed to set up an account on OOdle.com which is where your listings actually live. Once you have set up your listings, they will automatically share on your profile page's "My Listings" tab.
Some drawbacks and pluses…I try and keep my business sales info on my business page. To date I have not figured out how to make my listings show up on my business page, they live on my Tara Jacobsen profile. That seems to be good and bad. Since I do not have an IN-YOUR-FACE link to my business page, I worry that people will not be able to easily find out about Marketing Artfully. The plus was the ease of setting it up and coordinating it with my Facebook business page.
There is an oodle pro service that starts at $30 per month and seems to target Realtors, Car Sales, Recruiters and Items For Sale. Not sure that my services clients will benefit from this enhanced service. For realtors and others, oodle only allows one listing to be posted at a time so this may be a good fit for you if you want to post your listings on your profile page. Using a link to your postlets still is the free way to do this!
If you are interested in detailed videos on how to do this and many other social media marketing tasks, check out our social media videos!
(Visited 3 times, 1 visits today)