Being a small business owner is sometimes a challenge. Knowing where to spend your time and what to spend your money on marketing-wise can take some thought. One of our MLM or Direct Sales Marketing clients who is rocking her marketing is Rae Ann Dougherty of Green Cleaning Products!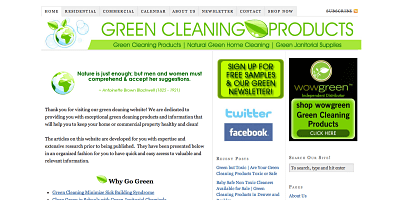 Rae Ann who represents a direct sales or MLM company got a blog from us earlier this year and has definitely embraced using that as her "HUB" for all her marketing materials (a hub is where you send all of your traffic to one centralized place). Her business focus is Green Cleaning Products and so we identified the keywords Green Cleaning Products, Natural Green Home Cleaning and Green Janitorial Supplies as the three that we would target.
Now just having her site up would not have worked any better for Rae Ann than having a static website. With that in mind she has done a lot of things to promote her site both online and offline.
Advertised in a local publication driving traffic to her website
Set up Twitter and Facebook accounts that target green cleaning product sales as well as recruiting direct sales or MLM reps
Monitored her Google analytics to target good post topics like "baby safe cleaning"
Written FABULOUS evergreen posts on topics that would appeal to the green cleaning public
Targeted local keywords like "Denver" and "Boulder" to try and get local traffic
Sends out postcards to her client base reminding them of ordering and driving them to her site
The other big thing she is doing right to succeed is focusing her attention on a category (green cleaning products) not marketing herself as a direct sales or MLM representative of WowGreen. She does that because if she ever wants to switch companies or if her company shuts down, she is not out of business. We don't even need to change very many links!
Anecdotal Things I Am Going To Keep Checking
One of the things that Rae Ann is doing also is to have a static home page with links to her authority posts deep linked. I am not sure if I am a fan of having a static front page as it reduces the number of keywords that you can potentially rank for BUT it should be great for helping her to increase her rankings for those particular subjects. I can not wait to find out how this works as there are frequently people who do not like the fluidity of the blog format home page.
If you would like to find out more about how to improve your MLM or Direct Sales marketing numbers, give us a call today! 727.415.9165
(Visited 8 times, 1 visits today)