Social media marketing and especially Facebook is taking over Google for driving traffic to my website. More traffic is great but social media marketing success is less predictable. So is Facebook beating Google on my site.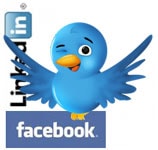 I attended a workshop a couple of YEARS ago where the speaker said that Facebook would take over Google as the search engine of choice for most people. I do not think that Twitter was even on the radar at that point yet. According to Facebook, they have more than 400 million active users today.
As a search engine, Facebook is a very subjective, easy to use tool. I have to say that when I want a good local place to eat lunch I Facebook my Denver friends rather than searching in google.
So how does Social Media Marketing matter to your website or blog?
Over the last 30 days I have been obsessing about getting more traffic to my website. I have increased the last rolling month by over 200 visitors and my bounce rate has gone up a couple of percent because of the new traffic. So where has that traffic come from?
Stumble upon (642 Visitors) – now this is not your typical social media outlet BUT I have to say that there ARE people who have signed up to "follow" me on it so I am counting it! There are other sites like Digg and Technorati that also send me traffic but they are not counted in that number.
Google organic (302 Visitors) – that covers 254 different keywords with between one and ten hits per keyword.
Direct (272 Visitors) – I think that this is from people who are just typing in my url from marketing pieces or coming from a link in an email. This is the hardest to track.
Social Media Combined, Facebook, LinkedIn and Twitter (107 Visitors) – I do not try on the social media front enough. Sigh. April will have to be "see how many hits I can get with social media" month! That having been said, for the same month long timeframe last year I got 13 hits from social media. Almost 10 times as many! And I think I was trying harder then…:)
So is Google irrelevant. Not to me. I LIKE keyword marketing and the challenge of ranking well for targeted keywords. I like being able to have empirical data that tells me what is working and what does not.
That having been said, I like using Hootsuite.com because I can get stats from there about clickthroughs to my tweets. I like being able to target tremendously tight niches using Facebook advertising and I like the challenge of getting ever larger numbers of fans and followers.
So, long story short (too late I know), I do not think Google is going to go away anytime soon and I am not throwing all of my eggs into the Twitter, Facebook OR Google basket. I am spreading the joy that is my website all around the internet so that when the next big thing comes along (which it will) I am positioned well with my content at the ready to capitalize on it!
If you would like to find out about how to effectively implement Social Media Marketing, please click the link!
(Visited 1 times, 1 visits today)