In my post yesterday about entrepreneur internet marketing I talked a little bit about keyword selection but I feel like I did not explain how fun small business keyword marketing can be! Here is a little bit about what prompted my keyword obsession this week…
So I am always working on great keyword selection for my clients but sometimes I get lazy with my own keyword focus. This blog ranks well for realtor marketing and entrepreneur marketing but I wanted a little extra zing for my new Small Business Internet Express product so I was looking at some google adwords data.
While setting up my campaign I noticed that the keyword "entrepreneur internet marketing" cost $3.00 a click and only had about 91 searches a month. ARE YOU KIDDING ME? Google wants me to pay three dollars for a keyword that might get seen by about one hundred people a month? Not this marketer I tell you!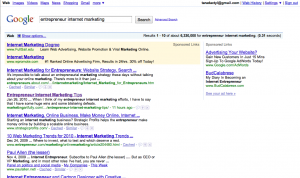 So I set out to rank on the first page for that keyword organically and today, one day after posting that article on my blog I rank on page one – yay! Now it is a great win because I am on page one, not so great because (as we know) that search term only gets about a hundred searches a month even though there are six million google listings that come up when you search for that term…:)
Small Business Keyword Focus
So how do you rank well for keywords that really matter? Pick three that are going to be a main focus for your site and then pound the crap out of them! You can get really great ideas of other niche keywords by doing a google search and seeing what google adds to your search as a suggestion. Today they suggested that I might also be searching for "entrepreneur marketing plan" or "social entrepreneur marketing".
So if I was trying to get a listing for entrepreneur marketing today I would make sure that that search term was in the title tags for my overall blog AND in the titles of lots posts with additional sub keywords added. Age of your domain DOES matter but so does great content so aim really high for you 3 main keywords and you will do well over time!
(Visited 1 times, 1 visits today)