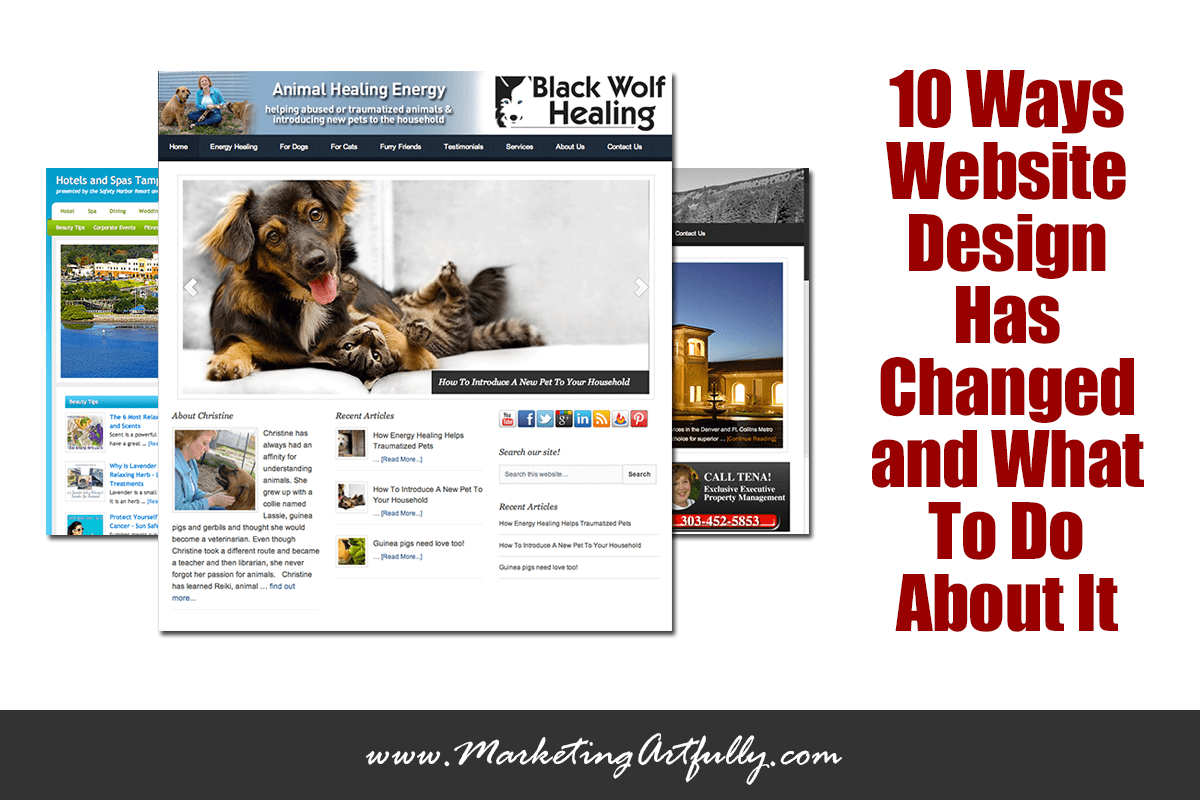 Website design is different today than it has been in a long time. Changes to how Google tells us about what keywords we should try to rank for have made a radical difference in what we should be doing and how we need to set up or changeover a website. Incorporating social media is a vital part of the equation, as is maintaining a social and blog presence.
This post came about because of two things that recently happened. First we were asked to speak about SEO at a conference which I haven't done for quite a while (mostly everyone is enthralled with social right now). This meant that I had to get all my thoughts in order about how search is working and why we do what we do. Because I have been actively involved in search engine marketing for over 15 years, sometimes I think everyone knows the history and why we do what we do when building sites for clients. Secondly, I was overwhelmed with questions and concerns from business owners who were using a free website builder or a basic site builder like GoDaddy's site tonight. I really was not aware that so few small biz owners did not understand the need for a strong website.
This post will cover the top 10 things I saw happening that were distressing and why they are important.
PLEASE NOTE: All of this information is for sites that want to take over additional search terms, are struggling overall in search or for brand new websites. If you have a website that is ranking well for your key search terms, leave it alone or make changes very judiciously!
1. New Content Matters More
One of the biggest changes that I think people have missed is the named update to Google called Caffeine that rolled out in 2010. This update basically changed how Google finds information. Instead of being linear, going from site to site to site "crawling" the internet, the Google search engine could now find information concurrently from all different sources at once. This means that having fresh content that is relevant to the searcher can be a huge boon to getting rankings and keeping relevant in the listings. The way to do this is to have a blog website instead of a static HTML site. Blogs have become beautiful so if you are just starting out and had a bad visceral reaction to the word blog, bear with me a bit, you will get over it when you see the rest of the post.
Caffeine Update From Google http://googleblog.blogspot.com/2010/06/our-new-search-index-caffeine.html
2. You Need To Post At Least Weekly
It used to be that you could build a website, have great SEO and then leave it sit there and it would slowly climb in the rankings as it "aged". That really doesn't work anymore. Now-a-days you need to have a structured plan for how to send out content that is search relevant, planning it over time so that you are hitting each of the keywords that you are targeting separately.
3. One Post Needs One Keyword
It used to be that you could write a post or page and cover at least three keywords (heck, years ago it was important to have lots of tags on your posts, now that is a detriment). Today's posts have to be laser targeted and focused on ranking for just one keyword each, with content to support that one keyword.
4. SEO Content Needs To Be Longer
It is a hard and fast rule from Matt Cutts that posts shorter than 300 words are not generally indexed as well in Google. That said, some recent findings show that the majority of results for highly competitive keywords are averaging at least 1,000 words and some go well over that mark. We have found that to be the case when doing work for our clients. Simply going over the 500 word mark on key content will make a huge difference in the results that they get.
Great post from Forbes about this http://www.forbes.com/sites/johnrampton/2014/04/04/how-long-should-my-blog-post-be/
5. The Loss of Keyword Data Sucks
We had a stunning blow last year when Google totally shut off the data about which keywords were used with which posts. Now, it had been coming for a while with the "not provided" results growing, but when it totally disappeared it was definitely a blow. Now, there are some truly bright spots also. The Google Webmaster Tools has some great data that can help show what terms you rank for site wise and reverse engineering content based on that and some knowledge of what searches are being done can help pick some immediate "low hanging fruit" and get some immediate gains.
Great post about this issue http://searchenginewatch.com/article/2296351/Goodbye-Keyword-Data-Google-Moves-Entirely-to-Secure-Search
6. Talking Search
One of the things that has been a sea change for search and SEO marketing is the switchover to more mobile searching. This happens when someone, phone in hand asks a question rather than typing a search term into Google. Instead of typing "Tampa Bay Realtors" they say, "who are the best realtors in Tampa Bay" or "which is the best Realtor to sell my Tampa Home". Those are entirely different SEO terms than someone who is just pulling up a search for "Tampa Bay Realtors". While it is important to try and rank for the regular term, adding content that answers the other questions is also vital to going forward.
7. Mobile Ready Website Design
I feel like this is the first actual website design tip (probably because it is!) While blogs are beautiful now, there are some pieces holding over from the "old days" of websites that are not so great for mobile responsive websites or blogs. One of those is the wide-wide top banner across a site. Today's best design is actually to have smaller pieces at the top so when it is on a phone it actually large enough to see something of it. We have heard numbers ranging up to 60% of website usage being mobile based now in some industries and we can't see that number going downward anytime soon.
8. Focusing On The Home Page
Having access to the data for a wide range of websites, I am here to tell you that the majority of any site's visitors are not coming directly to the home page. They are doing a search for something that is relevant to them and coming in on a page that important to them, then maybe hitting the home button and going to the front of the website. I wish that site owners would spend less time worrying about what their website looks like at the front door and worry more about what is behind that door, SEO and content wise. The most beautiful website in the world does no good if no one is coming to visit it.
9. Using Stolen Pictures
We are very careful to only use pictures that we have purchased the right to use for each individual client from a variety of photo sites. If your website designer does not do this, you as the owner can be liable for between $600 and $10,000 in fines. It is definitely worth it to ask the question before hiring a designer to work on your site or your individual blog posts.
10. Hiring A Cheapo Overseas Company Or Your Cousin Bob To Make Your Site
This last one makes me crazy as someone who has been in the business of websites for over a decade and a half. A company will hear about "outsourcing" and send their website design overseas to be done by people who do not speak English as their first language and who are hard to communicate with because they are multiple timezones away. Or they will use their Cousin Bob, who has just decided that he is "going to build websites". Bob really is trying, having started researching all the bits that go into it, watching some webinars and checking out a bunch of information on YouTube, not realizing that most of what is out there is outdated and could actually hurt the efforts of his new clients.