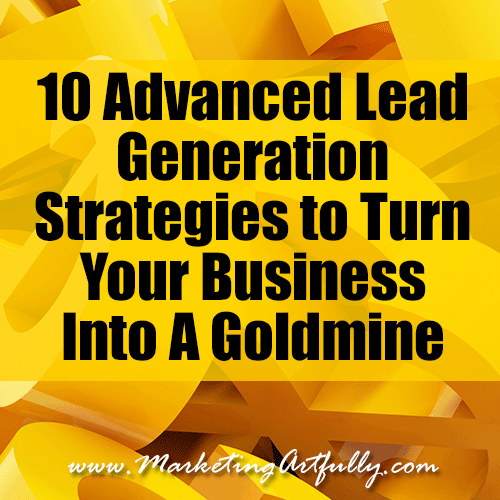 So excited to have this guest post from my Monster buddy, Rebekah Welch! We have the Marketing and Media Monsters and she rarely gives out these advanced lead generation secrets!
Lead generation is vital to the success of every business. If you need customers, you need to generate leads to find those customers. No matter how amazing your product or service your business will not draw new customers automatically.
Before you implement the 10 Advanced Lead Generation Strategies to Turn Your Business into a Goldmine discussed below, it is vital to make sure you have a few tools in place.
A way to capture the leads you get so you can put them into your database. Use a simple lead capture form on your blog or website. If your leads are coming from another source other than your site (such as networking or email), make sure you have the ability to input those leads into your database. Hire an admin or VA if needed to make sure this piece gets accomplished.
robust database and customer relationship management (CRM) system with automation capabilities.
A highly functional and dependable email client with great deliverability.
A fantastic, high touch, high impact automated follow-up system. I recommend a powerful auto-responder that you can customize for your brand and load with power-packed value added messages and compelling calls to action.
*I recommend using an all inclusive tool such as Infusionsoft that can handle all of the above in one location.
Now that you have your tools in place, employ these advanced techniques to dramatically increase your incoming leads.
1. Optimize Your Website or Blog for Search (SEO)
Statistics show there are approximately 5.2 billion web searches performed daily. Getting your business in front of your target market when they are looking for solutions to the problems that your business solves is the name of the game. Choose your keywords wisely – based on what your customers are ACTUALLY searching for – and position them appropriately in your web address, your titles, your images and videos, and the body of your content. Give the exact info necessary to earn their click, which will buy you the opportunity to educate your prospect on your ability to solve their problem and lead them into your database.
2. Content Marketing
In 2012 businesses spent more than $16 billion on online content marketing alone. Craft high quality content based on your customers needs and challenges then offer it for free on your blog. Position your business as the go-to resource in the market place for your industry. When your potential customer is looking for a solution that your business offers, your company will be top-of-mind.
Always focus on education and avoid anything that feels like a hard-sell or a power pitch. Instead provide real value that includes calls to action within the content you create. If you are truly knowledgeable and capable, your former and existing customers will provide the social proof of your excellence.
3. Create AMAZING "How To" Guides
Your customer doesn't care about you UNTIL you solve their problems, ease their pain, or provide valuable information. Learn your prospects most sensitive pain points and identify how exactly you can help. Create high quality "how to" guides based on solving that specific issue, and offer it to them via your blog or social networks. Use a simple form to capture their name and email as an exchange for your guide.
4. Create Interesting Reports for Your Industry and Give Them Away
Research interesting and useful information for your market and compile your findings into a report that you offer on your site for free. Sharing information is a great way to develop thought leadership, and position yourself as an expert. Helping your potential customers make better informed decisions will generate conversations, encourage referrals and generate a continuous flow of leads. Use a simple form to capture their name and email in exchange for your report.
5. Identify And Engage Joint Venture Partners
A joint venture is an agreement between your company and one that offers a complimentary product or service. Each partner recommends the other's products or service to their own audience, creating a broader reach for both parties. Joint Ventures can be used strategically to generate leads, build trust around both partner's products or services, and mutually boost awareness of each party's offerings.
6. Boost Leads with Amazing "Explainer" Videos
According to Jakob Nielsen you only have 10 seconds to capture a potential lead's attention. If you can engage your prospects and convince them stay on your page for thirty seconds, you can often keep their attention for 2 minutes or more.
The most effective way to achieve this is through Video. Entertaining "explainer" videos can quickly demonstrate your ability to solve the problems your potential customers are facing. Build in a call to action (request a quote, get more info, etc.) that captures their name and email.
7. Host Value-Packed Webinars
Webinars are a great way to target your prospects pain points and challenges and present your solution in a highly personal way. The trick is getting interested parties to show up. Make use of your branded email and auto-responder to send a confirmation when they register, a follow up email a few days out, and another the day of your webinar. After the event offer a replay for those who registered and could not attend or would like to see the information again.
8. Target Potential Customers with Social Media Ads
Most Social Media ad platforms enable you to reach tons of potential prospects with rich display ads and highly-targeted text ads. Most offer some method of filtering which allows you to target viewers by location, gender, age, and interests. The purpose of these ads is to funnel prospects into your database where you can offer them your guides, reports, webinars and build the relationship that leads to the sale.
9. Use Inboxq to Answer and Track Questions on Twitter
Twitter is an excellent place to add value, build community and bring in leads. Inboxq is a chrome extension that allows you to track Twitter questions in real time. As questions pop up that you have solutions for you can chime in and position yourself as a resource. Set up tracking in inboxq by identifying keywords relevant to your business. You'll get a real time alert every time a question is asked based on the keywords you specified. Make sure you answer specifically and use the inquirers name in your response so they know that you are human. Provide links to your relevant resources that help them solve their issues.
10. Send A Value-Packed Newsletter on a Consistent Schedule
Engage and nurture your prospects on a consistent ongoing basis with a fabulous newsletter packed with info. Begin with a compelling headline to make sure your newsletter gets opened. Make your newsletter interesting and loaded with value. Link the content to your resources – your site, your products, your guides, your reports, and your webinars – as well as any Joint Venture opportunities you may be cross promoting.