While there is no "Realtor Marketing" there are things that Realtors have to be aware of when setting up their real estate social media and websites. Our President is a former Realtor and currently licensed active in the state of Florida. She KNOWS the special ins and outs to watch for when setting up your social sites.
Your buyers or sellers are looking for you! CAN THEY FIND YOU?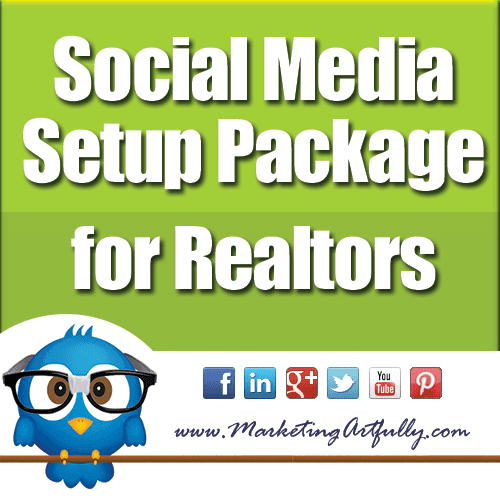 There's no question that in today's competitive Real Estate market, you simply are not in business until your customer can locate you on Facebook, Twitter, LinkedIn, Pinterest, YouTube, or even Google+!
Right now, more than 700 billion minutes are spent on Facebook EVERY MONTH! Every week, over a billion tweets are posted on Twitter. Social media and instant communication are here to stay. GONE are the days of sitting by the phone waiting for potential clients to call. No matter how many signs you post or business cards you give away, you simply cannot compete with the voice of Social Media. And aren't you excited? The internet has given you a platform to establish credibility, build relationships, and demonstrate your expertise!
We understand! Creating new profiles and business pages on all the relevant platforms can be confusing and time consuming, and may not even reach the people who want what you have. You need someone who not only understands marketing and social media, but also understands the business of Real Estate to lead you out of the chaos and into the streams of your potential clients.
That's where we can help. Our Social Media Set-up Services for Real Estate are designed to take the stress out of figuring out the where, when and how, giving you a powerful voice and helping you target your perfect customer every time!
The right social media presence can put your products and services exactly where they need to be – in front of the eyes of your perfect customers! Our team of marketing experts helps you choose the right sites for your business. We take care of setting up custom, professional, fully optimized profiles and pages on your selected sites. We create custom graphics to keep your brand message consistent and exciting. We even place industry relevant, optimized content on your pages according to your desired customers user preferences. Then we work with you to develop your launch strategy, guaranteeing your social media success.
Our all-inclusive, professionally designed and implemented Social Media Set-up Services are very competitively priced at just $750 and include:
Half hour marketing consultation to make sure the setup goals are YOUR goals
Custom graphics (profile, background, cover & header images, etc.)
Fully Optimized Profiles on Facebook, Google+, LinkedIn, Twitter, YouTube, and Pinterest*
Professionally designed Facebook, Google+, and LinkedIn** Business/Company Pages
SEO'd (Search Engine Optimized) Short and Long Descriptions and Graphics for each
Customized Launch Strategy
2 Weeks of Pre-Scheduled, Industry relevant posts to fortify your presence
we never spam and a real human will call you to find out more about what you need. we don't sell our list and work one-on-one with all of our clients!

Need more? For a limited time only get your Blog AND Social Media Set-Up for the low, low price of just $1250 (saves $250) ! Call Today (727) 415-9165