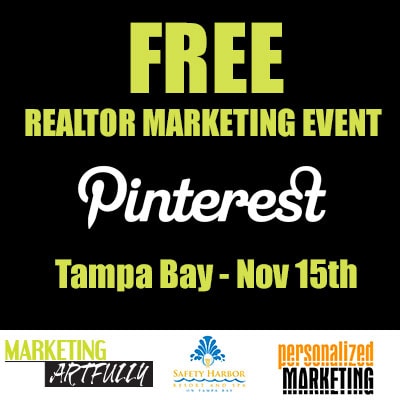 Join us for this FREE Realtor Marketing Event, where you will learn the ins and outs of Pinterest Marketing from Tara Jacobsen, Marketing Speaker and realtor marketing expert!
(just FYI – while this is a Realtor Marketing Event, anyone is welcome! we will be covering A LOT of information that would be relevant to anyone doing Pinterest Marketing!)

Some of the things we will cover in this event are:
Why do you need ANOTHER social media network
How do you do Pinterest for BUSINESS?
How to use Pinterest to drive traffic to your website
How to make and name boards
Why SEO (search engine optimization) is so important
What to pin
The top mistakes businesses make on Pinterest
And more!!!
Sign Me Up!
I need to know a little more first…:)
Okay, now that I know you are at least a little intrigued, also know that we will be covering strategy, developing a real plan for how to use this new social media network so it benefits you and your business. Not a canned speech, you will walk out the door knowing what to do going forward.
There will be A LOT of audience participation, meaning you will find out how to market your business effectively on Pinterest and we will all gain great ideas from working together.
Cost:
FREE!
When:
November 15th
9am-11am
Where:
The Safety Harbor Resort and Spa
105 N. Bayshore Dr.
Safety Harbor, FL 34695
http://safetyharborspa.com/
Sign up!