Email subject lines seem to be the one topic everyone is interested in, and rightly so! You can write the best email, newsletter or online communication ever, but if no one opens it because it does not have a good subject line, the time was wasted!
If you want to know more about my obsession with email subject lines, check out my previous post, Email Marketing, Writing Great Subject Lines.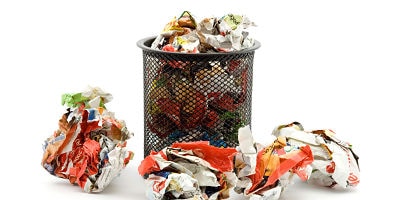 I receive about 600 emails a day during the week and about 400 a day on the weekends. I spend A LOT of time deleting emails without having ever looked at their content. One of the best things that happened to me recently was that Gmail set up a priority inbox so I can usually see Clients, Friends and Families at a glance. I assume other email programs have this same kind of feature.
So what effect does sorting have on your email open rates? When you are laboring over your newsletter, auto-responder or followup emails, it is easy to anticipate that the person at the other end will be happy to open it! I think that is EXACTLY wrong, I think they are looking for a reason to be able to skip it and hit the delete key. A strong, compelling subject line makes it impossible for them to hit delete without at least taking a peek!
One More Thing To Consider – The First Line
There is one more thing to consider when you are crafting your emails – the first line of text. Most email programs allow the user to see at least part of that first line. If you have a strong subject line and a compelling first line – BAM, you are sure of an open!
Good Email Subject Lines
Alert. All-Inclusive Beach Escapes w/Air from $549* – If I was in the mood to get away, this would get me to look. I have to say that I am in conflict about the "Alert." but have to feel that it did help catch my eye as a human being!
Save 63% on Our New Personalized Products & Get 10 Free! – From entertainment direct, a great discount and free stuff, okay!
Mind bending Facebook stats, and a dirty little secret – OF COURSE the emails from Perry Marshall have great subject lines, he is a master!
Apple's Market Cap in 1997 was 2.2 Billion today it's….. – Really big numbers are interesting and there is a cliffhanger!
Can I Send You Tons of New Prospects for Your Business? – New Media PR Expert, Rebekah Welch, sent this one! Just tempting enough without being come-onny.
Sorta-Kinda Good Email Subject Lines
Pissed Off? – Not so sure that this would have drawn me but the start of the email (which I see about a half a line of in Gmail) was compelling! "Gurus, bad actors and even lap dancers all trying to sell you the…
Homes.com Newsletter: Optimize your social media strategy – Did they really have to take up some of the subject line with their URL?
Please Join Us – Tampa Exadata & Exalogic Seminar – May 25 – Does have the Date and the name of Oracles product in it so that people in the know would recognize it, BUT what is it to me? Their email list is not great if I, a lowely marketer, are getting hard core programming information.
[HubSpot] New Webinar: Science of Analytics – Not sure about this new trend of putting your company name in the subject line – the sender is HubSpot anyways. This webinar is free, I would for sure have put that in the title (may use "complimentary" to help avoid some of the spam filters).
Super Duds
"NEW – Viral Facebook™ Traffic-Getting Software!!" from Gabor and NEW – Viral Facebook™ Traffic-Getting Software!!" from Pat – notice anything strange about these two emails? It is the same damn thing!!! If you are going to spam people with affiliate links, at least take two seconds to change the subject line a little! This is also a problem with Avon ladies and the Scentsy gals, because they use the automated systems within their company, I get multiple copies of the same email. Now, you would think that would compel me to open at least one of them BUT it just annoys me so I don't open any of them. Delete, delete, delete.
Tara, From the Desk of Stephen Pierce – Are you kidding me? Unless this guy is my lawyer or accountant, this is a total non-starter. I SO do not care about Stephen's desk or what is on it!
Auction – REALLY?!?!?! Date, time, location, land, antiques? Honestly, would it take 15 seconds to write a little bit more to tell me why I should open it?
Activate your Tipmeet widget (first line – We are happy to announce our new widget feature for personal websites.) – I did not request this AND it is totally self serving.
Re: Notification Of Payment Received – I HATE this little "trick" of putting "Re:" like he is responding to something I sent to him. If you learned any email marketing "tricks" from so-called gurus and you are a real business, forget them now and start acting like a grownup. These guys BURN through email lists and don't care if you come or go. Your clients will not think these "tricks" are cute and will ask to be removed from your lists!
Tara, Big News on May 8, 2011! – Big news about what? It may be big news for them but I am busy and this is not tempting.
Get Your Gift Card Today! – this was a teaser to visit a webinar, for which, they would give me a gift card. My time is worth more than they can give me on a gift card so I would rather have great content and no gift card! PLUS I don't know what I am getting a gift card for.
Charlie Sheen said what??? – are you kidding me? This was a webinar notification for making money online. Are these guys brain-dead or what. The "cute" thing is really not effective with me!
So there you have it! Another round of email marketing, the bad, ugly and good email subject lines. If you have some that ABSOLUTELY rocked the open rate, please feel free to post as a comment!!! Tara
(Visited 74 times, 1 visits today)